NFL linebacker Reuben Foster's accuser recants domestic violence claim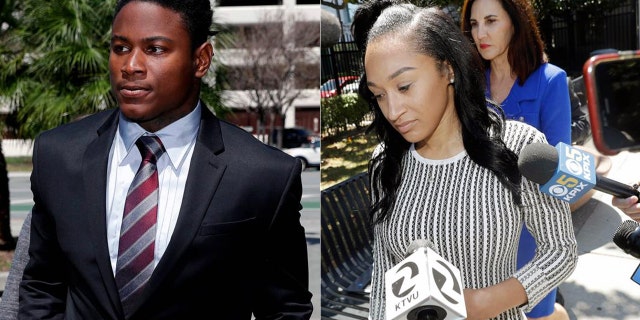 A former girlfriend of San Francisco 49ers linebacker Reuben Foster lied to authorities when she accused him of hitting her and caused him to be charged with domestic violence, her attorney said Thursday.
Attorney Stephanie Rickard issued a statement on behalf of Elissa Ennis that said her client can prove the injuries in February that led to the charges were not caused by Foster, but were the result of a fight between Ennis and another woman.
"(Foster) did not strike her, injure her or threaten her," said Rickard, who added that Foster tried to end his relationship with Ennis after he learned of the fight.
"She was extremely upset and told him if he broke up with her she would 'trash his career,'" Rickard said.
The San Francisco Chronicle reported that Ennis recanted her allegations against Foster while testifying at a preliminary hearing in San Jose.
"Im sorry," Ennis said under cross-examination by Foster's attorney. "I really am. I apologize to everybody. I really am sorry."
According to the Chronicle, Ennis testified that she originally planned to file a civil suit against Foster as part of a "money scheme," but realized "things had gone too far" when criminal charges were filed.
In addition to domestic violence, Foster was also charged with felony possession of an assault weapon after officers found a Sig Sauer 516 short-barreled rifle in his home while investigating Ennis' domestic violence report.
Foster has not been allowed to participate in the 49ers' offseason program while dealing with the case.
"The gravity of these charges has not been lost on us," General Manager John Lynch said Monday. "We take it extremely seriously. We do feel like patience is the right approach right now. We're going to learn things through this legal process. I do want to be very clear, abundantly clear, that if these charges are proven true, if Reuben indeed hit this young lady, he won't be a part of our organization going forward."
The 49ers drafted Foster 31st overall last year after questions about his health and character caused him to drop from being a possible top 10 pick.
Foster delivered on the field, ranking second on the team with 72 tackles in 10 games as a rookie and looking like a key part of San Francisco's defensive future.
Foster then was charged in January in Alabama with second-degree marijuana possession before the incident in February that led to the most recent charges.
The Associated Press contributed to this report.