New UFC lightweight champ Eddie Alvarez talks trash about Conor McGregor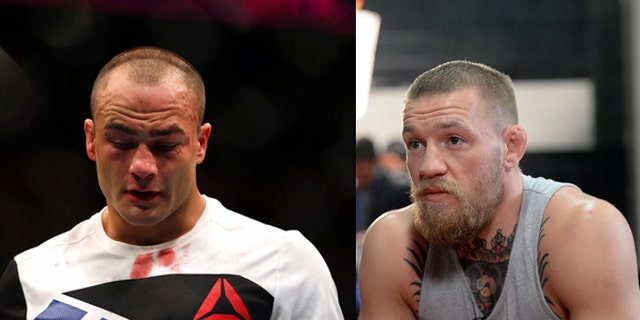 NEWYou can now listen to Fox News articles!
LAS VEGAS (AP) – UFC lightweight champion Eddie Alvarez had barely put on his new belt when he took a swing at Conor McGregor.
Shortly after Alvarez won the 155-pound title with a dramatic first-round stoppage of Rafael Dos Anjos on Thursday night, he called out the popular Irish fighter and questioned his mixed martial arts abilities.
When asked whether he would like to fight McGregor in the future, Alvarez praised his recent opponents, including Dos Anjos and former champion Anthony Pettis.
"I would ask (UFC President) Dana White, 'Please give me an easier fight like Conor McGregor,'" Alvarez said. "I deserve that. I've been fighting the best guys, so I would like a gimme fight. So, Conor, I'd more than welcome that."
Alvarez later expounded on his opinions about McGregor, whose brash public persona and dramatic knockouts turned him into one of the UFC's biggest stars in a remarkably short time.
Alvarez shares many fighters' belief that McGregor's promotional skills far outstrip his fighting abilities, outside of his punching power against other 145-pounders.
"Look, there's a lot of guys in the UFC who are good at one thing, and they get matched up stylistically well," Alvarez said. "They make their way to the top without ever going against the true best guys in the division. They sneak their way around them, and they live off perception, not what really is. (McGregor) is one of them. I think he can get found out. If he was ever to fight Rafael Dos Anjos or to fight myself, he'd get found out very quickly."
McGregor won the featherweight belt in December with an opening-minute knockout of longtime champion Jose Aldo, his fifth straight stoppage victory against increasingly impressive opposition. McGregor then lost a welterweight bout against Nate Diaz in March after Dos Anjos dropped out of their scheduled lightweight showdown with a foot injury.
McGregor's rematch with Diaz is the main event of UFC 202 in Las Vegas on Aug. 20.
Alvarez's trash talk is infused with business savvy. McGregor's recent opponents have received growing paychecks due largely to the Irish star's pay-per-view drawing power.