NBA Round-Up: Scola Stomped By Love, Villanueva and Melo on the Mend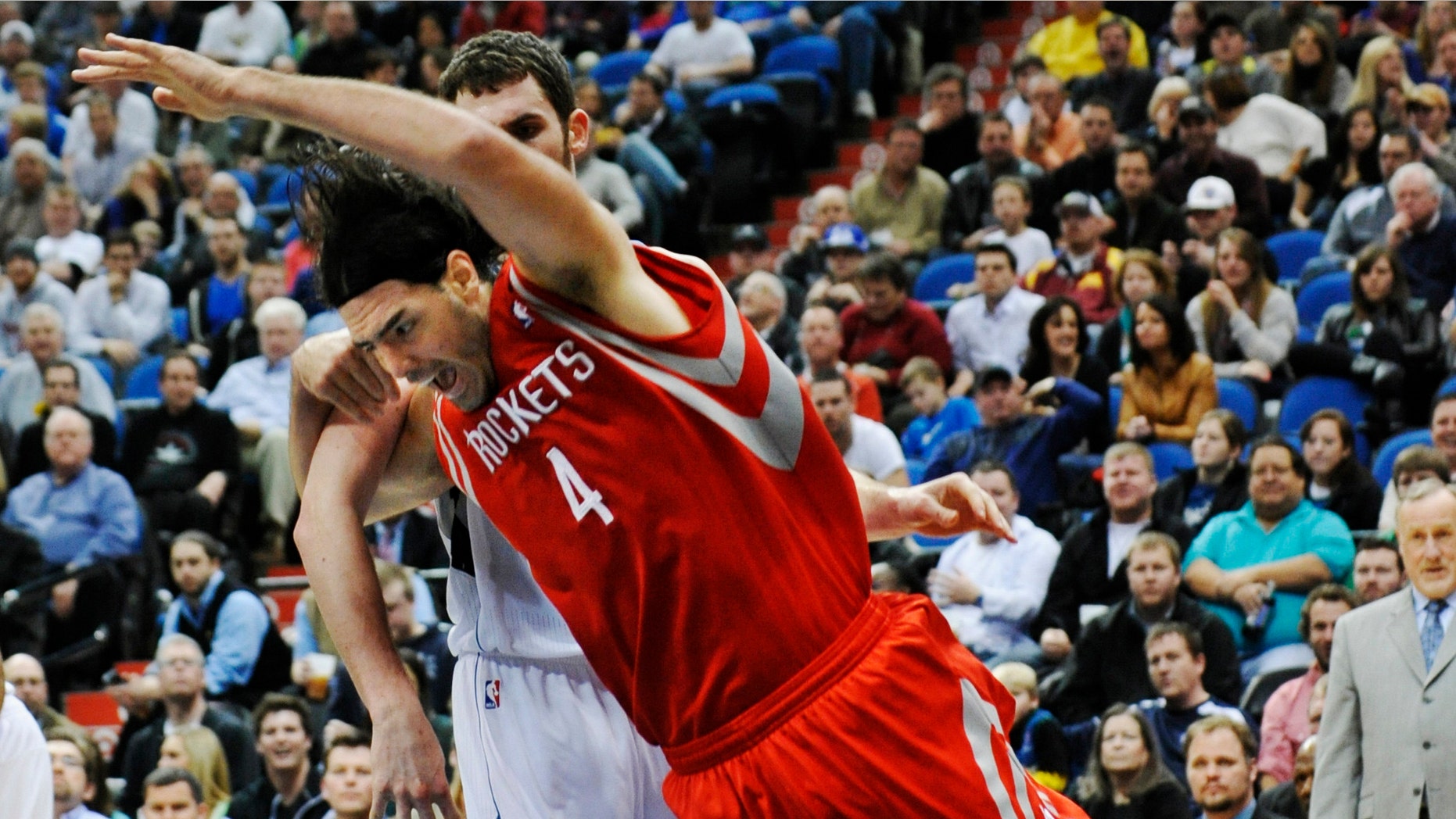 A weekly wrap up of the best Latino headlines in the NBA.
Too Much Love for Scola
We've seen it all before by now. A player gets stepped on by an opponent while laying on the floor, he retaliates, fists fly and suspensions and fines follow.
However, Rockets forward Luis Scola took the high road Saturday night in Minnesota when Timberwolves center Kevin Love hacked Scola on the arm as he spun around and made a move to the basket.
Instead of confronting Love, Scola was more worried about the referee not making the call and not being stepped on. "It's just one play. I'm more angry about the foul they didn't call before. I thought it was a clear foul," Scola told reporters after the game.
Scola said he had no way to know whether Love's act was intentional, but Love apologized after the game to the Argentine player.
The NBA suspended Love for two games Monday.
In a team statement Love said he needed to do a better job of controlling his emotions.
"I don't want to be known for that. I want to be known as a stand-up guy who happened to make a mistake with a size-19 shoe and just move on. So everybody knows there we no ill intentions there."
NY Giants Get Treated Like...Giants
Melo's Injuries Continue to Rise
Add a groin injury to the growing number of injuries for the Knicks Carmelo Anthony, who has already suffered this season from ankle, knee and right thumb problems. The Knicks star left the game in the first quarter Monday night after playing a little under six minutes and scoring two points in the team's win over Utah Jazz.
Anthony strained his groin right before an alley-oop pass to Tyson Chandler. He limped on court before calling a timeout with 6:11 left in the first quarter. After being tended by the team's medical staff, Anthony left the floor and never returned to the game.
Knicks coach Mike D'Antoni said that the all-star would be reevaluated today before they find out the seriousness of the injury.
The Knicks play at Washington tomorrow and then host the Los Angeles Lakers on Friday. They are already missing Amar'e Stoudemire, who left the team to be with his family after his brother died in a car accident early Monday morning in Florida.
Villanueva Slowly Recovers As Pistons Struggle 
Before the season started Charlie Villanueva spoke about the team starting all over again and returning to the good ol' days of Detroit Pistons basketball with a new coach in town.
Injuries have many Pistons' players off the floor, especially Villanueva, who's waiting for his right ankle to heal after only appearing in two games this season. The team announced Friday that their forward has bone spurs and tendinitis and will be out indefinitely.
Just another blow to a team that has struggled all season long and is 6-20, fourth worst in the league.
Eye on the News -Best Pix of the Week
"This is tough," Villanueva told the Detroit News. "I want to be out there to help the team any way possible. This is something that has been going on for a little bit now. Being out there is definitely my priority. That is what I am trying to do, get healthy so I can help this team win."
Villanueva still says he doesn't know how he injured the ankle is. He also missed the first four games of the season – three because of a league suspension. "I want to take care of this situation and hopefully I can play."
Tayshun Prince told Fox News Latino that Villanueva's presence on the floor would change the team's offensive struggles but for now they just had to wait until he's able to contribute pain-free.
"He can make shots and spread the floor for us and would be easier for us offensively but he's doing what he can to get healthy."
Adry Torres, who has covered MLB, NFL, NBA and NCAA basketball games and related events, is a regular contributor to Fox News Latino. He can be reached at elpiloto137@gmail.com or follow him on Twitter: @adrytorresnyc.
Follow us on twitter.com/foxnewslatino
Like us at facebook.com/foxnewslatino