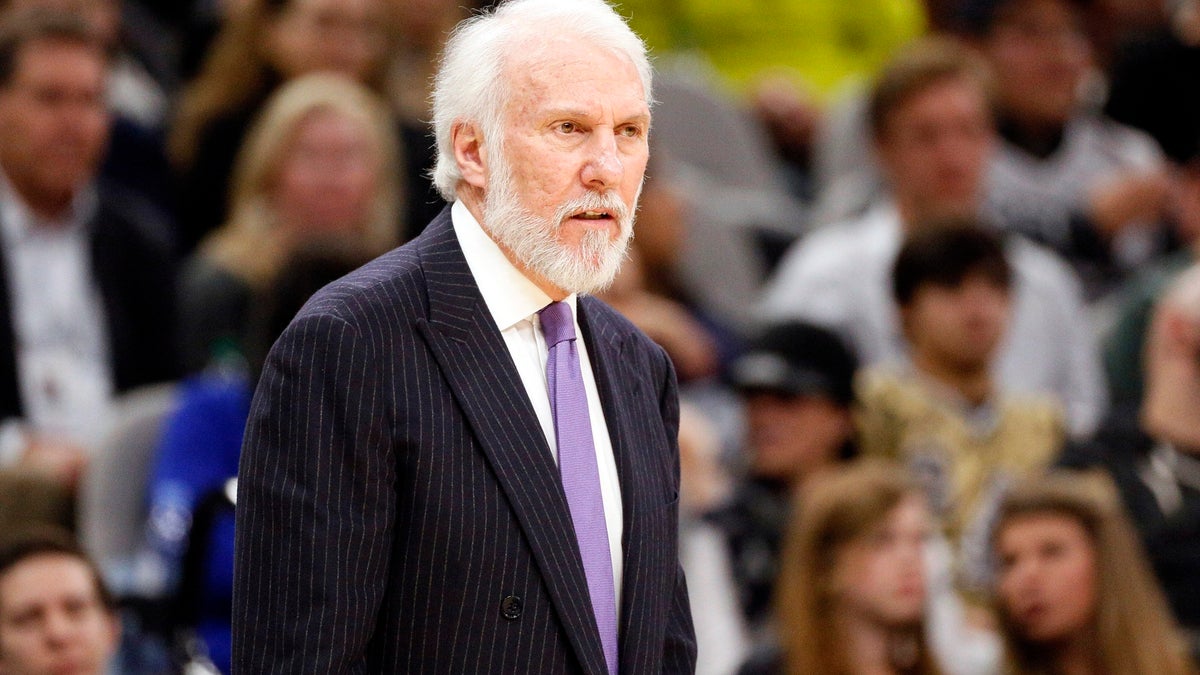 The coach of the San Antonio Spurs thinks the U.S. is "an embarrassment to the world."
Gregg Popovich, NBA head coach of the San Antonio Spurs, reportedly made the comment during the team's media day on Monday in regards to the recent battle between professional sports teams and President Trump, the San Antonio Express-News reported.
After being asked about his thoughts on President Trump's tweet on Saturday, in which the president rescinded an invitation for the Golden State Warriors to visit the White House, Popovich reportedly laughed saying, "I thought it was comical that it was rescinded because they weren't going to go anyway."
"It's like a sixth grader is going to have a party in his backyard and he finds out somebody might not come, so he disinvites them," Popovich said. "Although it's disgusting, it's also comical."
SARAH SANDERS: 'ALWAYS APPROPRIATE' FOR THE PRESIDENT TO DEFEND OUR FLAG
After winning the NBA championship last season, the Golden State Warriors were reportedly meeting on Saturday morning to decide whether or not they would accept an invitation to visit the White House in February, according to ESPN. But before they could meet, President Trump tweeted, officially rescinding the invitation.
Popovich also commented on the situation in the NFL, in regards to players protesting during the national anthem. He reportedly said that he would never tell his players what to do in that situation.
"Each one of them has the right and the ability to say what they would like to say, and act the way they would like to act," Popovich said. "They have our full support. No matter what they might want to do or not do. It is important to them to be respected by us, and there is no recrimination no matter what might take place unless it's ridiculously egregious."
TRUMP TACKLES THE NFL AND NATIONAL ANTHEM: A TIMELINE
In regards to the conversation of racism, Popovich reportedly referred to race as the "elephant in the room," saying even if it's an uncomfortable conversation, race needs to be talked about, Bleacher Report said.
"Obviously, race is the elephant in the room, and we all understand that. Unless it's talked about constantly, it's not going to get better," Popovich said. "There has to be an uncomfortable element in the discourse for anything to change, whether it's the LGBT community or women's suffrage, race, it doesn't matter."
"People have to be made to feel uncomfortable, and especially white people, because we're comfortable. We still have no clue of what being born white means," Popovich said.
Popovich's comments come after President Trump criticized NFL players for protesting during the National Anthem, "Wouldn't you love to see one of these NFL owners, when somebody disrespects our flag, to say 'get that son of a b---- off the field right now - he's fired," Trump said at an Alabama rally on Friday.