Moving companies refuse to help Chargers relocate to Los Angeles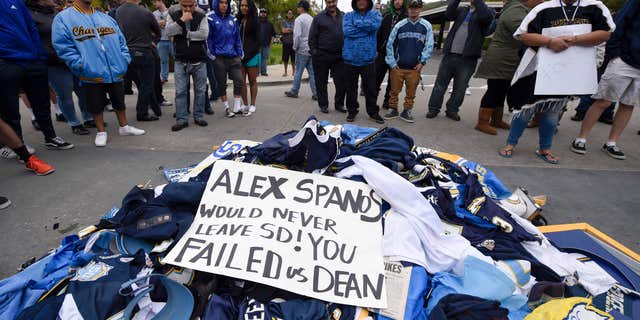 NEWYou can now listen to Fox News articles!
The Los Angeles Chargers have received an ice cold reception upon the announcement last week they were moving from San Diego to the city of Angels.
To make things even more difficult, the organization is having a tough time trying to find help for their big move.
Two dozen moving companies from the San Diego area have vowed not to assist the Chargers in their move to Los Angeles. The group of movers publicly expressed their displeasure and their stone-cold commitment to not lending a helping hand on the website WeWontMoveYouChargers.com.
"We decree, henceforth, that we shall unite as a perfect union of professional movers in agreeance (sic) to not aid the San Diego Chargers' move to Los Angeles."
According to the San Diego Union-Tribune, the movement was started by HireAHelper on Thursday in a last-minute attempt to try and keep the Chargers in the city.
"They can't move to LA without a mover. So what if all the movers in San Diego refused them? That was the idea behind it," HireAHelper vice president of marketing Ryan Charles told the paper.
LAS VEGAS SPORTSBOOKS SUFFER 'COLOSSAL' LOSSES FROM NFL WEEKEND ACTION
The Oceanside company had been cold-calling other professional movers in the area to join their movement and by Friday had attracted three other companies.
To make matters even more difficult, the group attracted eight Los Angeles-based moving companies to join the cause as well.
Since the Chargers announced their intentions to relocate to Los Angeles for the 2017 season, the reception the Chargers logos have been mocked relentlessly on social media and diehard fans returned their apparel to the Chargers' headquarters in San Diego.
Los Angeles fans at a Clippers-Lakers game Saturday booed the Chargers' new logo when it was shown on the video board, then jeered tight end Jeff Cumberland when he was put on the big screen.
The Associated Press contributed to this report.