Motivated Gordon looking to become complete back, eager for fall camp at Wisconsin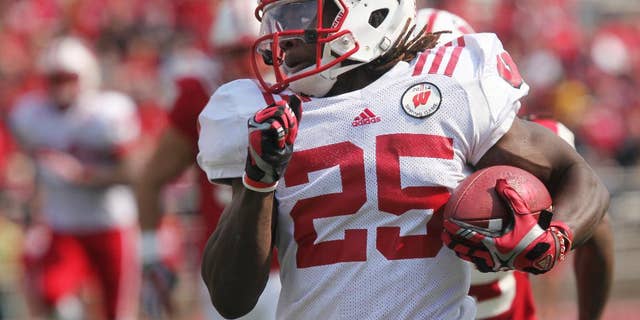 NEWYou can now listen to Fox News articles!
MADISON, Wis. – Wisconsin running back Melvin Gordon put up some new art work on the walls of his apartment.
Nothing trendy though, just some pictures to give him some extra motivation: the logos for the 2014 season opener between LSU and the Badgers and the season-ending college football playoffs are among the additions. The most precious item represents a goal that will be the toughest to attain: a picture of the national championship trophy.
Gordon is dreaming big after bypassing an opportunity to go to the NFL.
"They're up in my bedroom. I'm looking at those every day. When I wake up I see them," he said after the Badgers' spring game.
He didn't have much to prove this spring after rushing for more than 1,600 yards and 12 touchdowns last season splitting carries with James White. Now with White out of eligibility and looking for an NFL pay day, Corey Clement will be Gordon's new running mate this fall.
The first priority this spring was to keep Gordon and Clement upright, coach Gary Andersen has said.
"We kept them healthy, but they got better at pass protection, and I think that showed up today," Andersen said. "They got better at the screen game. The screen game didn't pan out very good today, but it will, and it'll be a vital part, and they're better at what they're doing."
Last season, White got 221 carries to 206 for Gordon. White, a senior, was a better blocker than Gordon.
This year, Gordon could get a much heavier workload, and at least more than a 50-50 split with Clement. Gordon is potentially in the conversation as a Heisman Trophy candidate.
Whether by coincidence or not, Gordon seems to be more polished off the field this spring. He was nattily attired after the spring game for interviews in a suit vest outfit; he's also more skilled in answering questions from reporters — something he'll likely be doing a lot of in the fall.
On the field, Gordon's goal is to become a "complete back."
His old position coach, Thomas Hammock "told me you want to stay on the field, you've got to be a third-down back," Gordon recounted. "You've got to be an every-down back. You have to do everything. You can't just to run the ball. I'm good at that."
Andersen expects his offensive line to be back at full strength by preseason camp, too, with centers Dallas Lewallen and Dan Voltz both recovering from injuries. Derek Watt will be back to help open holes from the fullback position.
Until then, Gordon will have daily reminders in his face on his apartment walls of the season's goals.
"It just reminds me that you can't slack because we've got a great team ahead of us in the first game," he said. "Those guys are ready to go so I've just got to keep motivated. This reminds me of the grind."
___
Follow Genaro Armas at http://twitter.com/GArmasAP