Modano marries pro golfer Micheletti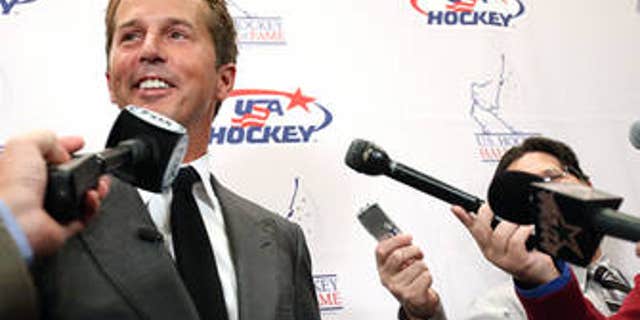 On June 11, 1988, Mike Modano was taken first overall by the Minnesota Northstars at the NHL Draft in Montreal. Less than a month later, on July 8, Allison Micheletti, the daughter of former NHL defenseman Joe Micheletti, celebrated her first birthday.
This is important because now Modano and Micheletti are married.
According to the Sporting News , the couple were married Sunday at the Hotel Joule in Dallas and are honeymooning in St. Bart's. And by all accounts, Micheletti, a professional golfer and former Big Break contestant, and Modano, the highest-scoring American-born player in NHL history, are having a nice time:
"...Once in awhile, Right in the middle of an ordinary life, Love gives us a fairy tale..." ~ @9modano pic.twitter.com/KVfdx3ipjr
-- Allison Micheletti (@AllisonmGOLF) September 1, 2013 Perfect wedding only missed 2 things: Sunny & Bear walking @9modano down the aisle. See you soon, @AllisonmGOLF ! pic.twitter.com/IWK50Yu4sa
-- Kate Norris (@Norris_Kate) September 3, 2013 All the boys @McKittrickKeith @justinabss @joshuaderby @tonyzazza pic.twitter.com/AhXRAsdcce
-- Mike Modano (@9modano) September 3, 2013
@DerekRadleyGolf and I had so much fun celebrating @AllisonmGOLF and @9modano 's wedding #Congrats #ModanoPartyof2 pic.twitter.com/dC9wkjglGx
-- Sara 'No H' Brown (@SaraBrownGolf) September 2, 2013 Starting this wedding weekend off with cookies! #modanomichelettiwedding pic.twitter.com/wi1o289sLH
-- Christina Stockton (@ChristinaGolfs) August 31, 2013 According to the Dallas Morning News , Modano's former teammates Brenden Morrow, Darryl Sydor, Marty Turco and Brett Hull were at the wedding, as was Mark Cuban.
Before finding each other, Micheletti was romantically linked to 28-year-old PGA Tour pro Martin Kaymer, who won the 2010 PGA Championship at Whistling Straits. Modano was married to singer Willa Ford for five years before the couple split last August.
Micheletti's father, Joe, is now a color analyst for the New York Rangers.