Minor on track for spring training, but Braves know health is a risk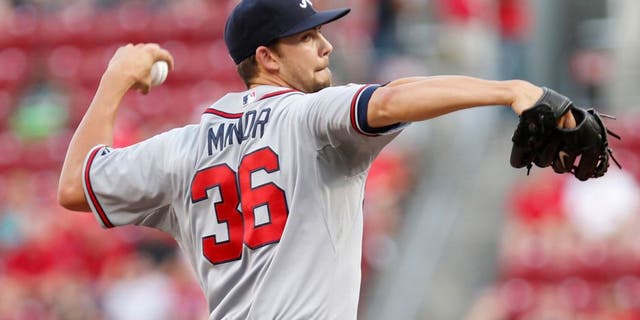 The Braves used eight starters between the ages of 22 and 24 this past season, which was the most in baseball history. While the return of Mike Minor would give them the most senior member of that staff, there's no guarantees with the health of the 27-year-old.
And therein lies the debate facing Atlanta's leadership.
"Will he stay healthy?" asked general manager John Coppolella."For $5 million that's a big question and something we've got to talk through and wee what we end up doing."
Minor has been dealing with shoulder issues since the start of 2014, getting shut down in September of that season. After seeing him this past February at spring training, manager Fredi Gonzalez remarked proclaimed the left-hander was in midseason form.
But he would never pitch an inning for the Braves in '15 and had surgery in May to repair a slight tear of the labrum in his left shoulder.
Minor is currently on a regular throwing program, recently moving from 90 feet to 120 in long toss. He'll progress to throwing side sessions, bullpens and live batting practice with an eye on rejoining the Braves when they arrive in Florida in this winter.
"(We'll) get him up to where he's comfortable, we're comfortable that he's a factor at some point," said president of baseball operations John Hart. "We'll more than likely shut him down and ramp him back up for spring training with the idea that he will be in our rotation."
There have been no setbacks in his routine so far, giving the Braves confidence, but Coppolella notes this is a spot they've been in before with Minor.
"It's been all good, but at the same time it's something where he felt good in spring training and was throwing the ball, really, as well as he has since 2013 and then he ended up getting hurt," he said.
Which could make for an interesting next few months.
Last winter, Minor won his hearing with vs. the team, earning $5.66 million opposed to the $5.1 million the Braves offered. If the Braves tender Minor a contract, it would have to be at least 80 percent of his 2015 salary, which would equate to $4.5 million.
Given that the Braves know what they have in Minor when he's at the top of his game -- in 2013, he was 13-9 with a 3.21 ERA in 204 2/3 innings across 32 starts -- and the questions that persist with the health of young arms Manny Banuelos (elbow) and Mike Foltynewicz (blood clots), bringing him back would seem a sensible manuever.
Hart didn't rule out Atlanta mining the pitching market, though considering the in-house options under club control behind Shelby Miller, Julio Teheran and Matt Wisler (including the organization's minor league Pitcher of the Year, Tyrell Jenkins), maybe they can find a solution without venturing elsewhere.
That is unless Minor, with the potential of returning to the promise he showed two years ago, is ready to rejoin the staff. The Braves are being optimistic, but cautiously so.
"We've just got to see how he makes progress, see what we end up doing with him," Coppolella said. "That health is a risk for us."
Follow Cory McCartney on Twitter @coryjmccartney