Miles thinks WKU 'is tremendously well-prepared in all three phases'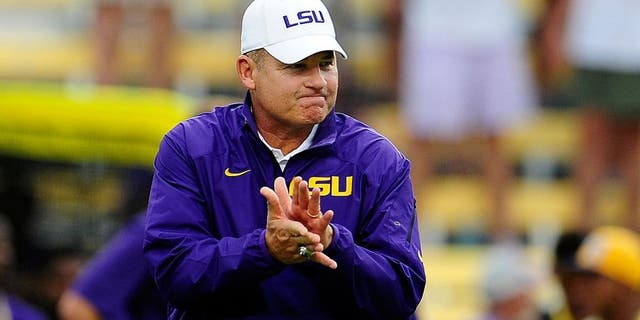 NEWYou can now listen to Fox News articles!
Miles believes WKU will provide a stiff test Stacy Revere Getty Images
LSU's head coach spoke about a number of topics during his various media appearances on Wednesday.
This weekend's opponent in Western Kentucky could pose some problems. It has a talented quarterback in Brandon Doughty. The signal-caller out of Florida has already thrown 24 touchdowns on the year. The offense is also averaging 44 points per game on the season.
Miles understands his defense has a big challenge awaiting them this weekend.
"They've got a nice pass-protection scheme. Their front five are talented athletically, and do a great job," said Miles. "And [Doughty] gets rid of the ball. It's five steps, then plant and throw. That's one of the reasons that it's been very difficult to get to him."
News wasn't good for injured tight end Dillon Gordon. According to Miles, the jumbo athlete will have achilles surgery. The loss of Gordon could affect the ground game in a negative way. Gordon is essentially a glorified offensive lineman, and is by far the best blocking tight end LSU has on its roster.
Lastly, Miles displayed a bit of his usual quirkiness when asked about the origin of WKU's mascot, the Hilltoppers. The campus is situated on a hill, and the color red was used as a symbol for blood shed during battle.
As Miles colorfully stated, "Historically, in the old battles or really every battle, high land was a premium. If you had your outpost on high land, I think that's an advantage."
(h/t The Advocate)