Michigan, Duke, Florida, Louisville advance to Elite Eight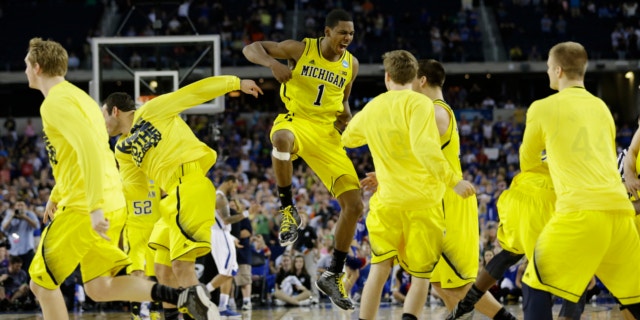 NEWYou can now listen to Fox News articles!
ARLINGTON, Texas – Michigan, Duke, Florida and Louisville advanced to the NCAA Tournament's Elite Eight with victories in the Sweet 16 Friday.
Trey Burke scored all 23 of his points after halftime, including a long, tying 3-pointer in the final seconds of regulation, and Michigan rallied to beat Kansas 87-85 in the South Regional semifinals Friday night.
The fourth-seeded Wolverines wiped oeut a 10-point Kansas lead in the last 3 minutes of regulation, and Burke gave them their first lead since early in the game with another long 3 to open Michigan's scoring in overtime.
Michigan (29-7) reached the regional finals for the first time since the Fab Five era 19 years ago, the last time they were in the round of 16.
SEC regular-season champion Florida, the No. 3 seed, was getting an all-too-close look at what everybody has enjoyed watching this March. But Michael Frazier's only two baskets of the night got the Gators on their own run, and FGCU's improbable NCAA tourney run to the round of 16 came to an end just before midnight Friday.
Frazier's 3-pointers came from the left side, directly in front of the FGCU bench, to start a 16-0 run late in the first half. That put the Gators ahead to stay on the way to a 62-50 victory.
Florida is going to its third straight NCAA regional final, even after the Eagles jumped out to an early 11-point lead. The Gators (29-7) and their roster filled with NCAA tourney experience were just too strong and too good. FGCU matched its season low for points.
Just days after word leaked that Tom Izzo's son had picked Duke to beat his dad's team in the Midwest Regional final, Seth Curry scored 29 points to lead the Blue Devils to a 71-61 victory over the Spartans.
Curry's big game put coach Mike Krzyzewski on the verge of a 12th Final Four appearance, which would equal John Wooden's record. Krzyzewski is tied for second with North Carolina's Dean Smith.
Next up for the second-seeded Blue Devils is Louisville (32-5), a 77-69 winner over Oregon in the night's first game, and it could be a virtual home game for the top-seeded Cardinals just about 100 miles from their campus. Plus, Louisville coach Rick Pitino is trying for his seventh Final Four, which would tie him for fourth with Roy Williams.
But Duke beat Louisville 76-71 on Nov. 24, and with Curry shooting like this, the Blue Devils just might have the advantage.
"Seth was just at a different level than anyone else on the court offensively tonight," Krzyzewski said. "To get 29 points in a game like this against a good team is just incredible."
The win comes 16 months after Duke beat Michigan State to give Krzyzewski the NCAA record for wins. And now, one year after falling to Lehigh in the second round of the tournament, Duke has reached the regional final in the same venue where it won its fourth national title — just as Izzo's son predicted.
Third-seeded Michigan State couldn't keep up with Curry and Duke's other shooters. Rasheed Sulaimon had 16 points for the Blue Devils, making 12 of 14 from the free-throw line, and Mason Plumlee finished with 14 points and seven rebounds in the return to his home state.
The Associated Press contributed to this report.