Michigan boasts the best defensive front in the land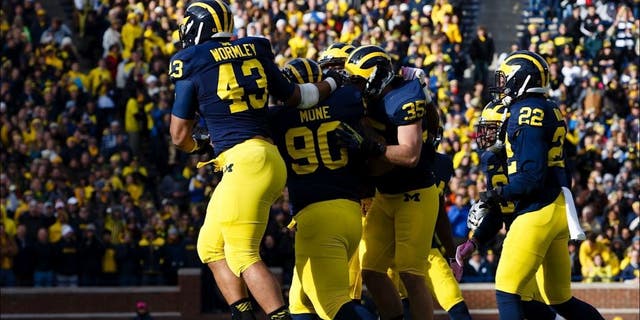 NEWYou can now listen to Fox News articles!
With conference media days set to kick off in a few days, it's time to talk a lot more about what we're going to see on the field this fall. We're kicking off our positional rankings with the 10 best defensive lines in college football.
1. Michigan: Former Wolverines head coach Brady Hoke, an old D-line guy, did not leave the cupboard bare. This is a young group that blossomed last year and should be special in 2016. New DC Don Brown comes from Boston College and inherits a huge, talented group up front. And that could be a scary mix. "What he does from a schematic standpoint because he's so outside the box with the way that he packages his pressures where they're bringing five, six every snap trying to get ready for all that stuff in one week's time is a bitch," one veteran offensive line coach said. "The scheme will definitely help their production."
Seven of the Wolverines' eight in their two-deep across the front could also weigh 280-plus with only back-up sophomore DE Chase Winovich being under that size. The headliner of the group at this point is a versatile -- and agile -- 6-5, 303-pound Chris Wormley, who had a breakout season in 2015, notching 14.5 TFLs. Maurice Hurst and 6-6 Taco Charlton are a pair of 285-pounders who combined for 15 TFLs in 2015. The most underrated of the group is 300-pound senior Ryan Glasgow, their anchorman who was a force in 2015 before going down with a shoulder injury the last month of the season. How valuable was Glasgow? The Wolverines allowed 2.42 yards per carry before he was hurt and 5.22 after he went down. "He's pretty salty," one Big Ten offensive line coach said. Glasgow, along with 315-pound sophomore Bryan Mone, who missed last season with a broken leg, will make it difficult to run against Michigan. The other name to remember is Rashan Gary, the 6-5, 295-pound uber recruit from New Jersey who several college coaches say is the best big D-lineman to come into college in a few years. Gary's size, agility and versatility should be a great fit for Michigan.
2. Alabama: The Tide had the best D-line in the nation last season, and even with Jarren Reed and A'Shawn Robinson gone to the NFL, they're still in the running again. This bunch was a big reason why 'Bama led the nation in sacks last year (52) and was in the top three in total D. In truth, if edge-rusher supreme Tim Williams (10.5 sacks) was deemed a "defensive end" instead of a linebacker -- technically he plays the 'Jack' position, a hybrid DE/OLB -- 'Bama would probably have the top spot here. End Jonathan Allen is a stud. The 6-3, 295-pounder notched 12 sacks last season. And 320-pound sophomore Da'Ron Payne is the most explosive huge man the Tide has had in a few years, and that is saying something. Dalvin Tomlinson, a former 310-pound prep wrestling star, is a guy the coaching staff loves. O.J. Smith, a 315-pound sophomore, and 325-pound junior Josh Frazier probably would start at some other SEC programs. Former five-star recruit Da'Shawn Hand (6.5 TFLs) has a lot of folks excited about his pass-rush potential at end.
3. Utah: Kyle Whittingham's teams have been a handful for folks the past few seasons because they've had a pretty nasty bunch of D-linemen, and this group is no different. Lowell Lotulelei, Star's younger brother, is a 310-pound junior, made first-team All-Pac-12 last season and is primed for another big year causing havoc for rival offensive lines and freeing up his teammates to make a lot of plays. Filipo Mokafisi, a 280-pound junior DT, is also back inside after starting seven games in 2015. Hunter Dimick, a 272-pound DE who benches 450, has started 16 games the past two seasons while battling some injuries yet still has produced 21.5 TFLs and 13 sacks. Former UCLA Bruin Kylie Fitts, the other DE, had seven sacks and four forced fumbles last season to round out what is a superb starting four. This group would've been even deeper had Stevie Tu'ikolovatu, a 325-pound 25-year-old grad transfer, not left for USC a few weeks back.
4. Mizzou: The Tigers return a bunch of playmakers on their defensive front. What they don't have anymore is well-regarded DL coach Craig Kuligowski who is at Miami. Jackie Shipp, though, has plenty of experience and produced more than his share of standouts (Gerald McCoy, Tommie Harris among them). Shipp inherits a legit All-American candidate in DE Charles Harris, who blossomed last season, making 18.5 TFLs. An opposing SEC coach gushed about Harris and his athleticism. But don't overlook the other guys here. Walter Brady had a strong year at the other DE slot with 11.5 TFLs and seven sacks. He's back, as is promising DE Marcell Frazier. DT Terry Beckner Jr. had a strong rookie season before tearing his ACL but he's expected back for 2016. Also expected back is 292-pound Harold Brantley, who started 10 games in 2014 and made honorable mention All-SEC but missed the 2015 season after suffering numerous injuries in a car accident. Ricky Hatley, 345-pound Josh Augusta and A.J. Logan round out a talented and very experienced group of DTs. If Brantley and Beckner are able to make complete recoveries, this will be an elite group headlined by a truly special player in Harris.
5. Texas A&M: Led by the ridiculously athletic Myles Garrett, the Aggies have the best DE tandem in college football. The 6-4, 262-pound Garrett, who is faster than most wide receivers and DBs, has first-pick-in-the-draft talent. He had 19.5 TFLs, 12.5 sacks and five forced fumbles last season despite facing a bunch of double teams. His presence has a lot to do with the Aggies piling up 111 TFLs in 2015 -- third-most in all of college football. Daeshon Hall, at 6-6, 260, has blossomed into a productive DE. He had 14.5 TFLs and seven sacks in 2015. Jarrett Johnson, Qualen Cunningham and James Lockhart form a decent trio of backups. Inside, there is a lot of potential to improve a unit that ranked just No. 108 against the run last year. Daylon Mack, a former five-star recruit who had 9.5 TFLs in his freshman debut last season, is a powerhouse who can really get off the ball. Classmate Kingsley Keke, a 6-3, 320-pounder with great feet and good length, may prove to be just as talented. The third DT, Zavycoven Henderson, who is now 294 (down from 330), also is talented but needs to be more consistent. Keep an eye on freshman Justin Madubuike, a dynamic 285-pounder.
6. FSU: One of the big reasons why the Noles have been back as a perennial national title contender is the run of difference-makers along the defensive line. Start with DE DeMarcus Walker, who will be joined by rangy speed-rusher Josh Sweat to give FSU a big-time pair of ends. Walker had 10.5 sacks in 2015. Derrick Nnadi started 13 games last season inside, should anchor the middle along with Demarcus Christmas, a 295-pounder with terrific wheels. Whether the 305-pound Nnadi and Christmas, a redshirt sophomore, emerge as a dominant presence will determine whether this is a good group or an outstanding one. Arthur Williams, a quick 320-pounder, is also one to keep an eye one.
7. LSU: Lanky Arden Key, a 6-6, 235-pounder wowed the Tigers' staff with his quickness last season as a true freshman, notching five sacks and a team-high nine QB hurries. He now becomes a "Buck" in new DC Dave Aranda's 3-4 scheme, and don't be surprised if his big-play numbers double in his sophomore season. The system transition will be interesting for a group that played very well late last season, ranking No. 17 in sacks per game as a defense. Devon Godchaux (six sacks) is a bit of a tweener, but he has a knack for making plays. DE Lewis Neal shined last season, making a team-best eight sacks. Neal is up to 280 pounds but pretty explosive as his 34-inch vertical jump attests. He also has extremely long arms, making him a headache for opposing offenses. Steady Christian LaCouture, who is 304 pounds, has some good strength to try and hold down the middle. He is a 465-pound bencher. However, for this defense to get really nasty the Tigers need a war daddy to emerge in the middle. Touted freshmen Rashad Lawrence and Ed Alexander have potential. Former blue-chip recruit Travonte Valentine, a 6-3, 340-pounder, will provide a huge boost if he gets cleared academically.
8. Clemson: The Tigers lost a load of talent to the NFL with DEs Kevin Dodd and Shaq Lawson leaving early. They were a big reason why Clemson was No. 1 in the nation with 126 TFLs last year and No. 2 with 48 sacks but there's still some eye-popping talent here. Christian Wilkins, a Freakish 310-pounder who can do backflips and splits, is a budding star. Carlos Watkins also is one of the better DLs in the ACC who made first-team all-conference in 2015. Junior Scott Pagano is another experienced big man. He started nine games last season. Then there's the arrival of 6-5, 345-pound freshman Dexter Lawrence, who some college coaches think will be even more of a dominant force than Rashan Gary. On the outside, 265-pound sophomore Austin Bryant flashed his potential when he made eight tackles in the Orange Bowl against OU after Lawson was injured early in the game. He'll be at strongside DE while Clellen Ferrell, a redshirt freshman who has generated a lot of buzz this spring, will be on the weakside.
9. Ole Miss: Robert Nkemdiche is gone but the Rebels still have a big, athletic group back with lots of experience. DE Marquis Haynes is built more like a linebacker at 6-3, 228, but that guy (a 6-10 high jumper in high school) is a QB nightmare, having notched 17.5 sacks the past two years and 16.5 TFLs last season. The other end, Fadol Brown, is 6-4, 280 and had 10 quarterback hurries in 2015. Tackles D.J. Jones, a 320-pound JC transfer, played well after Isaac Gross injured his neck early in the season. The undersized Gross is back now and he has 27.5 TFLs in his career. Breeland Speaks, a 310-pound sophomore, also impressed last season with 5.5 TFLs. Top 50 recruit Benito Jones, another 310-pounder, also arrived in Oxford with big expectations and the early enrollee encouraged the staff with his approach and ability.
10. (Tie) Ohio State: The Buckeyes' defense was hit hard by departures to the NFL. Most notably: OSU lost star DE Joey Bosa and a good DT in Adolphus Washington. Still, Urban Meyer has plenty of horses to spark his D. Sam Hubbard, a 6-5 former high school lacrosse standout that Meyer raved about when he signed him four years ago, has continued to turn heads with his athleticism. The one-time safety is now a 265-pound redshirt sophomore coming off a strong freshman season (8.5 TFLs, 6 sacks). The other DE Tyquan Lewis is a high-motor guy who led the team in sacks in 2015 with eight and also had 14 TFLs. Junior Jalyn Holmes and Bosa's kid brother Nick, himself a five-star recruit, also will push for time at end. Inside, Michael Hill and Tracy Sprinkle figure to start with Jashon Cornell also in the mix.
10. (Tie) Houston: I had four different teams listed in this spot before switching from one to another. It may seem unusual to have a Group of Five team listed among the elite, especially in the trenches, and they may not have quite the caliber of depth of some of these Just Missed the Cut teams listed below, but the Cougars have some big athletes who will give people some problems and their three-man front will be pretty fierce. B.J. Singleton is a 6-4, 315-pound DT who made second-team All-AAC last year and will anchor a stout group. On the outside, 6-6, 270-pound Cameron Malveaux looks as good as just about any DE in the country. He power cleans 360, vertical jumps 35 inches and is a 400-pound bencher. He also made 8.5 TFLs last season. In Nick Thurman and Jerard Carter, UH has two more big bodies that, at around 300 pounds, are hard to move. The most talented of the bunch may be a freshman: 6-2, 285-pound five star Ed Oliver, who may be as quick coming off the ball as any DT in the country.
Just Missed the Cut: UCLA; Michigan State; Auburn, K-State; Florida.