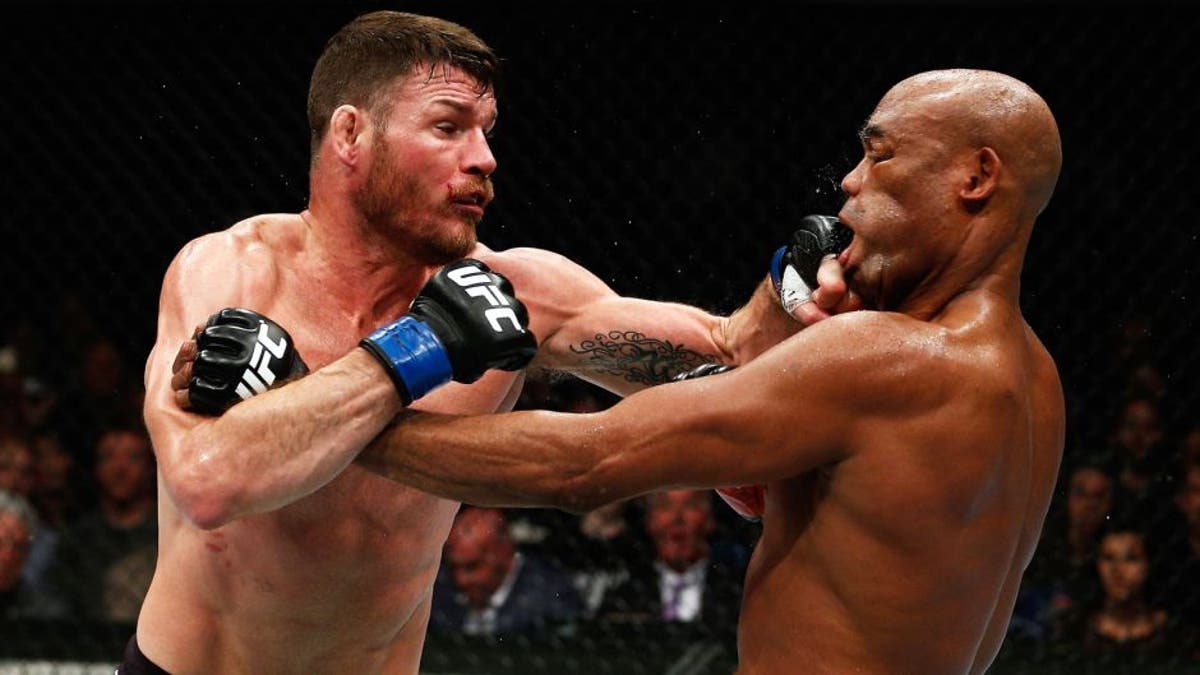 Michael Bisping might be one of the most outwardly confident fighters to ever compete in the UFC, but ahead of his matchup with Anderson Silva in London he stared down some hard truths about his career.
The book on Bisping that was written up until now has always been the same -- a tremendous competitor and a great trash talker who always loses in the biggest fights of his career.
The narrative shifted dramatically on Saturday when three judges all agreed that Bisping did enough to beat Silva over three rounds and handed him the biggest victory of his career with 48-47 scorecards across the board for a unanimous decision win.
It was certainly a battle that won't be soon forgotten.
It's one that will leave Bisping with more scars on his face than when he first entered the Octagon, but he'll exchange a few stitches for a win over a fighter who is arguably considered the greatest of all time.
The win didn't come without controversy either. Bisping was virtually knocked out at the end of the third round after a bizarre moment where he tried to get his mouthpiece back from referee Herb Dean while forgetting the cardinal rule to protect yourself at all times.
Somehow, Bisping mustered enough will power to get back on his stool before coming back in round four to likely steal another five minute session from Silva while clearing the cobwebs from his brain and a stream of blood pouring down his face.
The five round war took a lot out of both men and while there's definitely something to be said about Silva's performance at 41, which looked like a far cry from the fighter who dominated the middleweight division for seven years, it was still Bisping's night to shine.
In front of his home country crowd, Bisping was undefeated throughout his career but he was still a big underdog against Silva going into their fight on Saturday. Even against an aging Silva, most believed that Bisping was at best a top 10 fighter who could never get past a future Hall of Famer.
He fell short against Dan Henderson.
He fell short against Chael Sonnen.
He fell short against Vitor Belfort.
He fell short against Luke Rockhold.
And even Bisping faced reality as he prepared for the Silva fight because at 36-years of age he knew that he had far less time in front of him than behind and another loss in a marquee matchup would have only proven his doubters correct.
"I've beaten a lot of great fighters, but people say the big ones, I've lost them all," Bisping told FOX Sports in the days leading up to the fight. "I don't want to go down as a guy who loses his big fights. I'm going to win this fight, it's as simple as that. I don't want to go down as a guy who every time he had a big fight, he lost."
Every fighter knows that opportunity only knocks so many times during a career and Bisping knew that at 36 years of age, his chances to make another run at the title were beginning to dwindle. In the past, he scoffed at those criticisms but in the lead up to his fight with Silva, Bisping acknowledged the fact that another loss would be a devastating result.
So he put forth the best effort of his career and was rewarded with a victory when it was all said and done. Bisping joins Chris Weidman as the only two fighters in UFC history to hand Silva a defeat.
What does this mean for the future?
It's possible the UFC allows Bisping to finally get a title shot against the winner of the upcoming bout between Luke Rockhold and Chris Weidman. Bisping fell to Rockhold in 2014, but the trash talk between the two of them was legendary and it would certainly be an easy fight to sell after what happened on Saturday.
Then again, Bisping could face another top five middleweight just to continue his climb up the ladder rather than sitting and waiting for a title shot. There's also other options like fighting a big name like Nick Diaz when he's eligible to return later this year.
Regardless of the next matchup, what matters most for now is that Bisping got the job done against Silva and that's plenty. Whether you agreed with the decision or not, Bisping finally won the big one and he deserves a round of applause for getting the job done when very few people believed he could.