Mexico's 55-Year-Old Mariachi-Clad Skier Set To Take On His Sixth Winter Olympics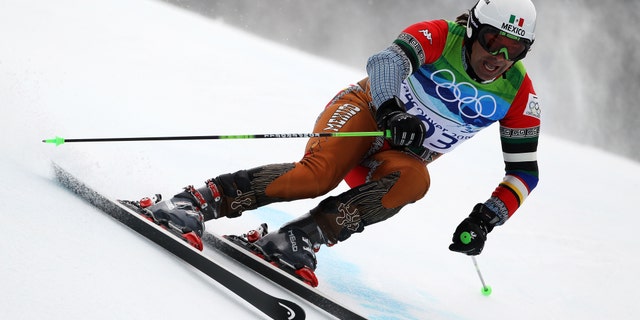 There won't be a red carpet at the Sochi Olympics, but that doesn't mean competitors can't make a fashion statement.
Mexico's Hubertus von Hohenlohe, who is 55, will be skiing in the men's slalom in Sochi in what will be his sixth time in the Olympics.
But what Hohenlohe is really excited about is his outfit for the special occasion — a mariachi-themed race suit.
In an interview with NBC, Hohenlohe said he will be proudly clad in a Kappa-designed suit that will be complete with "the trimmings of a black bolero jacket, ruffled tuxedo shirt, red tie and cummerbund, and designs down the legs surrounding the initials 'MEX,'" the network reported.
Hohenlohe, who is also an accomplished photographer, said it was important to him to pay homage to his birthland while hitting the slopes. Hohenlohe often says he holds a dear place in his heart for Mexico, though he lived there only a few years as a child before his parents, who come from German royalty (his father is Prince Alfonso Hohenlohe, and his mother is Princess Ira Fürstenberg) left to Spain.
"Until I went to Mexico recently to make a documentary, I never realized what a beautiful, amazing, rich past and culture they have and what a proud people they are," he said, according to NBC. "It actually moved me to see how much they suffered and how much they fought for what they have. The power to have your own identity is so strong and something I believe in, so I want to give it a go in a very cool, elegant way. I want to celebrate who they are, but of course in my own style."
In an interview with Time Magazine a few years ago, Hohenlohe, who learned to ski while he attended schools in Austria, said he felt more "Latino" than anything else.
"I feel very Latin in a way, and Spanish," the magazine quoted Hohenlohe as saying, noting that he speaks fluent Spanish, in addition to French, German, Italian and English. "The Spanish were the ones who came to Mexico in the end, so I do feel Mexican. Naturally I have more ties to Spain, but I'm more of a Latin person."
Hohenlohe founded the Mexican Ski Federation in 1981.
He is one of the oldest Winter Olympians ever, according to published accounts. He will break the record, NBC said, in Sochi for the "longest span of appearances at the Winter Olympics."
In 2010, he tied the record held by Costa Rican Arturo Kinch, an Alpine skier from 1980 to 2006.
Hohenlohe is known for his theatrical sartorial flair, eschewing the usual ski attire for outfits that draw attention and make statements.
While he doesn't expect to walk – or ski – away with a medal in Sochi, he does hope to be an ideal "Mariachi Olympic Prince," he quipped.
Being one of the best dressed on the slopes, he continued, "is a medal I need so urgently."
Follow us on twitter.com/foxnewslatino
Like us at facebook.com/foxnewslatino