Marcus Smart is finally showing legitimate point guard skills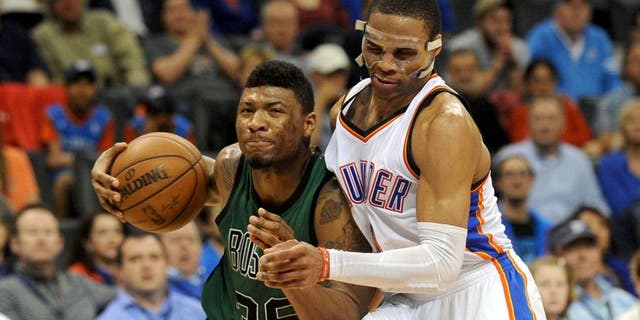 NEWYou can now listen to Fox News articles!
Marcus Smart is slowly proving he can be a great point guard. Mark D. Smith USA Today
Marcus Smart is Boston's franchise point guard of the present and future. At least, that's what the organization hopes. Through last year and this preseason, the 21-year-old hasn't flashed much progress in the way of proving he can run a team and engineer an efficient offense.
But that perception dramatically shifted on Thursday night when Smart tallied nine assists in a Celtics win over the New York Knicks. Here's what Brad Stevens had to say about his young floor general's improvement after the game, per ESPN Boston's Chris Forsberg:
Smart's ability to run the pick-and-roll, and understand when it's time to pass and when it's time to shoot, is a fundamentally crucial aspect of his development.
If he wants to hit his ceiling and maximize who he can be in the NBA, he needs to get where he wants on the floor, use screens to his advantage, make teammates better and react to the defense's coverage, particularly when they take away a shot.
Even if it came against the Knicks, Thursday night was a major step in the right direction.