March Madness Rundown: First Four Begin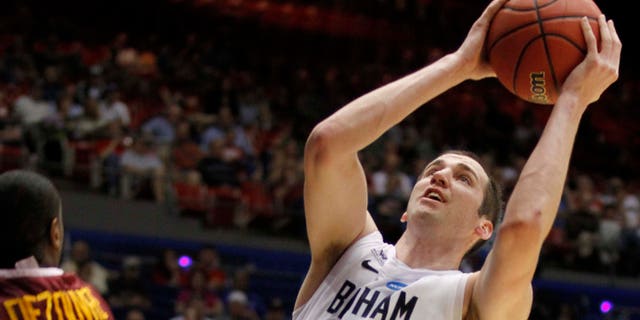 The First Four: Upset-mania!
Western Kentucky will be carrying a crazy level of momentum into the 2012 tournament, kicking off March Madness in stunning fashion on Tuesday night. The Hilltoppers overcame a 17-point deficit with under 5 minutes to go to shock Mississippi Valley State in a 59-58 victory. The victory gives Western Kentucky their first tournament berth in school history. The momentum may not be enough, however, as Western Kentucky is slated to take on Kentucky in the first round on Thursday at 6:50 PM. Despite Western Kentucky's stunning victory, do not expect to see them upset a #1 seeded Kentucky squad in the first round. Kentucky will not be as sloppy as MVS, and should find a way to beat the full court press that stifled MVS's offense in the latter part of Tuesday's second half.
If the first four opener did not get fans riled up enough for March Madness, the BYU vs. Iona contest certainly did. BYU trailed by as many as 25 in the first half, but stormed back in the second to pull off the 78-72 victory. This game was completely one-sided in the first half, giving BYU their own share of momentum entering a Friday contest tipping off at 2:15 PM against Marquette. BYU certainly has a better shot at taking out Marquette in the first round than WKY does against Kentucky, but they will still have their hands full.
BYU and WKY started things off right with two thrilling victories, unfortunately these will probably be the highlight of their entire March. I have them both getting knocked in the first round of my bracket.
Besides the berth of BYU and WKY into the tourney, the biggest news from Tuesday was that Big East Defensive Player of the Year Fab Melo of #1 seeded Syracuse has been declared ineligible for the tournament. This is going to be devastating to Syracuse, and will likely prevent them from grabbing a title.
E.J. Aguado Jr. is a freelance writer based in New Jersey and Fox News Latino's official March Madness correspondent.
You can reach E.J. Aguado at: aguado91@gmail.com or via Twitter: @Aguado91
Follow us on twitter.com/foxnewslatino
Like us at facebook.com/foxnewslatino