Maple Leafs rookie Matthews sets modern record with 4 goals in debut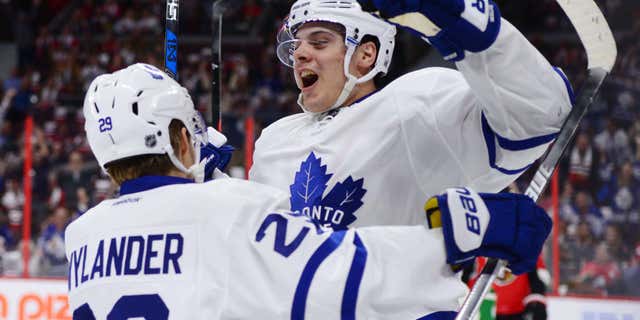 Auston Matthews needed 40 minutes to get into the NHL record book.
In the highest-scoring debut in modern NHL history, Matthews scored four goals for the Toronto Maple Leafs, but Kyle Turris scored 37 seconds into overtime to give the Ottawa Senators to a 5-4 victory Wednesday night.
Matthews got his fourth with 3 seconds left in the second period, bringing his mother to tears in the stands.
He called it a "surreal" moment, adding that "I couldn't believe that was happening out there."
The 19-year-old from Scottsdale, Arizona, is the 12th first overall pick to score in his NHL debut.
"Since I've been the Leafs coach, that's the best night I've had since I've been here by 10 miles," said second-year coach Mike Babcock. "Not even close."
Despite the historic first game, Matthews took responsibility for the loss after failing to pick up Turris coming into the Toronto zone. Turris took in a pass from Mark Stone with Matthews chasing, set himself and fired a shot by Frederik Andersen.
"That last play was 100 percent my fault," Matthews said. "We came here to win and we didn't get that done."
Turris scored twice, including the tying goal 6:45 into the third period. Bobby Ryan, Erik Karlsson and Derick Brassard also scored for Ottawa.
Frederik Andersen stopped 25 shots for the Maple Leafs. Craig Anderson had 34 saves for Ottawa.
Matthewsscored on his first shot 8:21 into the first period, snapping in a pass from Zach Hyman during a scrum around the net.
The second goal came with 5:42 left in the first period. He dangled through a pair of Senators near the blue line, stole the puck from two-time Norris Trophy winner Erik Karlsson along the boards then beat Anderson with an odd-angle forehand.
"I've never seen anything like it," Babcock said. "He's a good player. You see that second goal he scored, not many guys do that."
Matthews put Toronto ahead 3-2 with a one-timer from inside the right circle on a feed from Morgan Rielly 1:25 into the second period, and fans showered the ice with hats.
The fourth goal followed a give-and-go with William Nylander. Matthews lifted the puck past Anderson after blowing by a defender in the slot. Nylander had two assists.
Matthews scored on his first three shots of the game.
"He's a man," Babcock said. "He's 19 years old but he acts like he's 27. He has great maturity. If you meet his mom and dad, you're thoroughly impressed with the kind of people they are and the respect he has for his mom and sisters, the kind of guy he is.
"Don't get me wrong, we would've drafted him anyway, but that makes him more special."
His parents, Brian and Ema, were in the stands and celebrated the first goal with a kiss. After the third goal, Matthews' mom was shown on the broadcast high-fiving fans and covering her face in disbelief. She cried following the third and fourth goals.
"Those were tears of joy," Ema Matthews said. "I feel very excited. This is what Auston has been dreaming since he was 6, be playing right here in the NHL."
"I hope that nobody's going to wake me up here anytime soon," Brian Matthews said. "This is unbelievable."
Matthews' success was no surprise to Senators coach Guy Boucher, who coached against the young center last season in the Swiss Elite League.
"He's the real deal," Boucher said. "I told everybody and I saw it firsthand last year so I'm not surprised. He's the total package. He played against men last year and he's playing against men now, so I'm not surprised."
Matthews' debut captivated the league on the season's opening night.
"Feels like I'm watching mite hockey where there's that one kid who's just way better than everyone else. Congrats," tweeted retired forward Martin St. Louis.
"Most guys would be thrilled to score four in a month.... #easygame" wrote Hurricanes forward Viktor Stalberg.
Matthews was the fifth player with three goals in his NHL debut since 1943-44 and first since Derek Stepan with the New York Rangers in October 2010. Alex Smart (Montreal, 1943), Real Cloutier (Quebec, 1979) and Fabian Brunnstrom (Dallas, 2008) also had hat tricks in their first NHL games, though Cloutier played five seasons with the Nordiques in the WHA before that.
NOTES: D Thomas Chabot and LW Matt Puempel were a healthy scratch for the Senators. Toronto D Frank Corrado and Roman Polak as well as C Seth Griffith were a healthy scratch.
UP NEXT
Maple Leafs: Host Boston on Saturday night for their home opener.
Senators: Host Montreal on Saturday night.