Maddon believes Cubs' World Series drought will help recruit free agents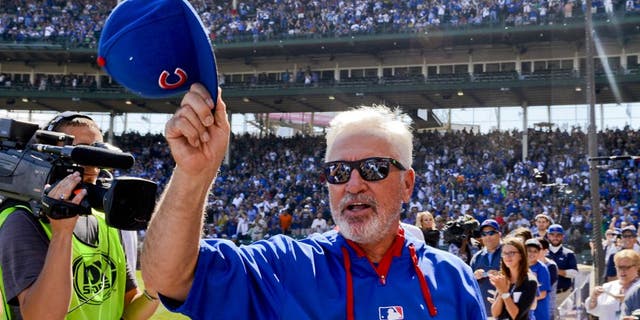 Sep 26, 2015; Chicago, IL, USA; Chicago Cubs manager Joe Maddon (70) acknowledges the crowd before the game against the Pittsburgh Pirates at Wrigley Field. Mandatory Credit: Matt Marton-USA TODAY Sports Matt Marton USA TODAY Sports
The Chicago Cubs are a club heading in the right direction after a 97-win season.
Earning a trip to the National League Championship Series, along with Kris Bryant winning Rookie of the Year and Joe Maddon winning Manager of the Year; the Cubs should be, and are likely going to be, a destination for top-of-the-line free agents.
"The spotlight is shining from Wrigley Field," Maddon said Tuesday during a Baseball Writers' Association of America conference call. "You'd just like to believe that's going to attract other people that want to be there."
While it might be considered a flaw of the Cubs, Maddon claims the the club's lack of a World Series title in 106 years (and counting) could actually draw players to playing home games at Wrigley Field.
"There (are) competitive-nature components of a lot of major-league players that would like to be a member of that first group that did that," Maddon said. "And of course, that's going to be a pretty good player that wants that kind of a challenge."
The Cubs are also hoping their reigning Manager of the Year can help do some recruiting of his own to bring in more talent. With prior relationships with free-agent pitching prize David Price and switch-hitter Ben Zobrist, Maddon could be the key to Chicago landing one or both players while keeping within the team's financial limits this offseason.
"Of course, I'll be involved in any kind of discussions that are going on," Maddon said. "If I'm able to help in any way, of course, I'll attempt to do that. I really haven't had any conversations to this point. The guys (in the front office) have just been putting their thoughts together right now."
Overall, the role of recruiter is something Maddon looks forward to being a part of during the Hot Stove period.
"I love being involved. I love making those phone calls," he said. "(And) if you're trying to recruit guys to Wrigley Field, it's not a bad recruiting situation to be in."