LLWS: Panama Spoils Uganda's Debut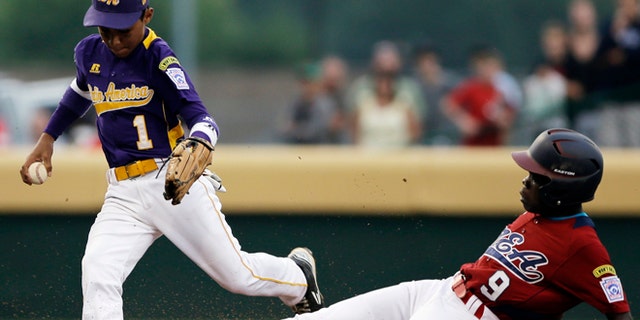 SOUTH WILLIAMSPORT, Pa. – Uganda may be the crow favorite here, but Panama proved they were the better baseball team Friday night when they beat the African squad in their Little League World Series debut.
The first team from Africa to advance to South Williamsport in the 66-year history of the tourney did fall in its debut Friday. Aguadulce, Panama, defeated the boys from Lugazi 9-3.
Uganda's coaches said they didn't expect any parents of the players to make the expensive transatlantic trip to Pennsylvania.
But Uganda has still drawn vocal fans who cheered wildly, especially after Daniel Alio's towering home run to center in the sixth. He showed off a methodical homer trot that would have made David Ortiz proud.
"I thought I wouldn't hit a home run," the soft-spoken Alio said. "But my coach told me to make contact."
Canada, Texas and Indiana also won Friday — Day 2 of the youth baseball marathon.
Alio and his teammates, though, were the biggest stars. Manager Henry Odong said they're proud to represent Africa, where baseball is an emerging sport but not nearly as popular as soccer.
"The rest of Africa is behind us," Odong said in recounting his message to players after early struggles at the plate. "People are watching ... just make contact."
It's been a special month already for Uganda sports after Stephen Kiprotich won gold in the men's marathon race at the London Olympics.
No record crowds this year, unlike the tens of thousands who showed up each night in 2011 to root on Keystone kids from nearby Clinton County.
But the locals seemed to have taken to the scrappy Uganda team that is also one of the more popular squads at the Little League dorms. Third baseman Ronald Olaa has already developed a reputation as one of the top ping pong players in the rec room.
Friday was all about baseball.
They managed just three hits. They committed four errors.
But they had their share of highlights, too, like Alio's homer.
Or Alio backpedaling into short right to make a tough catch on a high popup.
Or pitcher Tonny Okello making a lunging catch of a weak popup on the first-base line while trying to avoid the runner.
Not a bad start at all considering this team is used to playing back home on old soccer fields strewn with pebbles and the occasional anthill.
Uganda's coaches hope their trip to the series and the experience playing before large crowds helps build more interest in baseball back home, where soccer is the dominant sport.
"This is the biggest crowd that we have ever seen," Odong said. "I told them that no one even cares what we were doing" in rooting for the team.
Panama's pint-sized players had their own treat Friday when injured Phillies All-Star catcher Carlos Ruiz visited the team from his native country.
He encouraged them to have fun but to work hard on the diamond. Looks like they listened.
Ruiz said major leaguers always pay attention to the Little League World Series. Marlins first baseman Carlos Lee, who is from Aguadulce, has been calling the Little League team as well.
Starter Julio Goff struck out seven and allowed just a hit over 2 2-3 innings in drawing the tough starting assignment.
"Pitching here against Uganda, with that crowd, it made it very hard," Goff said through interpreter Antonio Gonzalez, "but thank God that we won."
___
CANADA 13, MEXICO 9
Outfielder Thomas Neal's lunging catch saved an extra-base hit and helped Vancouver, British Columbia, beat the team from Nuevo Laredo. The teams combined for 27 hits, but several defensive gems by Canada had fans buzzing.
Neal's catch was the most impressive after Mexico's Eduardo Abrego smacked a sinking liner to left-center with two outs in the third and a runner on first. Neal dashed to his right before diving for the catch with an outstretched glove just before the ball hit the turf.
"The moment I saw it, I just had this feeling he was going to catch it," said pitcher Ataru Yamaguchi.
The 13-year-old outfielder let out a roar before being mobbed by teammates on his way back to the dugout.
"I told him he was my best friend now," the 13-year-old Yamaguchi joked. "He wasn't before. He was my fourth (best friend), just to clarify."
Canada led 8-1 in the top of the second before Mexico rallied with the long ball. Ramon Ballina hit two homers.
____
TEXAS 5, NEW JERSEY 2
Jordan Cardenas homered and pitched 2 1-3 innings of hitless relief, and San Antonio took advantage of defensive miscues to beat Parsippany, N.J.
Cardenas gave Texas an early lead with his solo shot to right in the bottom of the first.
The Southwest champions added three more runs in the second thanks to two outfield errors. Starting pitcher Tyler Vitt had singled to center in the inning and came around to score on a three-base error.
Playing in a steady rain, New Jersey broke through in the fourth after Anthony Scannelli's single to make it 4-1. Cardenas relieved Vitt and walked D.J. Pico with the bases loaded to force in another run before retiring seven in a row.
Texas wasn't used to the playing conditions after playing its regional tournament in Waco with temperatures often in the triple digits.
Vitt struggled a bit with his command in the hard rain in the fourth.
"The ball got slippery and the mound turned to thick clay," he said. "It was tough."
___
INDIANA 4, OREGON 0
New Castle, Ind., broke a scoreless tie with Gresham, Ore., in the bottom of the fifth with the help of a bunt single, two wild pitches and Mason Gillis' check-swing double that trickled down the right-field line.
In short, hustling Indiana played small ball to perfection.
Cory Murphy got the rally started with a single to center. He moved to second on a sacrifice bunt before scoring on two wild pitches.
Starter Greg Mehlhaff struck out seven for Oregon before being lifted after Indiana broke through in the fifth.
Based on reporting by the Associated Press.
Follow us on twitter.com/foxnewslatino
Like us at facebook.com/foxnewslatino