Latino All-Stars, Bartolo Colón's Stellar Return, and Reserve Relievers Save the Day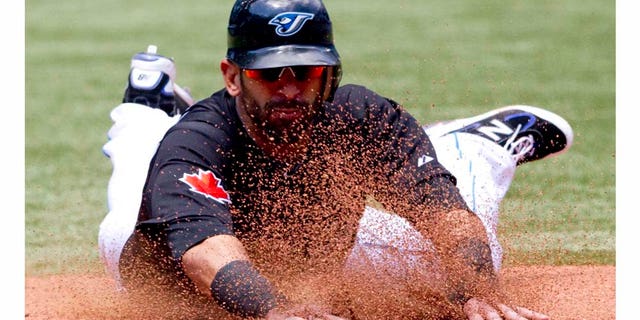 Latino Stars Shine
Adrián González became the first Mexican to be voted to the All-Star game and José Bautista was baseball's leading vote-getter, as the best players from the National and American Leagues battle it out next Tuesday July 12 at Chase Field in Phoenix.
Bautista will be joined by eight fellow Dominicans. José Valverde, Robinson Canó, Adrian Beltre, Alex Rodríguez and David Ortiz will join him in the American League team while José Reyes, Plácido Polanco and Starling Castro round out the representatives from Quisqueya in the National League.
Venezuelans Félix Hernández, Asdrubal Cabrera and Miguel Cabrera will represent the AL while three Cubans made the annual summer event: Gio González and Alex Avila for the American League and Gaby Sánchez on the NL.
Mexico is also represented by Carlos Quentin in the American League and Panama has only one rep, Mariano Rivera, on the same team.
Carlos Beltrán and Yadier Molina are the only Boricuas, both on the National League team, and Jair Jurrjens, born in Curacao, joins them on the same team.
Ortiz will also captain a group of American League players in the home run derby.
The Dream Starts Now
The Texas Rangers made a splash this weekend as the official international signing date officially kicked off.
Since the yearly June baseball draft exempts players from Latin America, except those in Puerto Rico, players have to be at least 16 years old to sign and 17 years old to play professionally.
The Texas Rangers spent $8.5 million on two 16-year-old outfielders from the Dominican Republic.
The Rangers inked Nómar Mazara for $5 million while Ronald Guzmán got $3.5 million.
It has been almost two months since the Rangers paid top money to another outfielder, 23-year-old Cuban defector Leonys Martín, signing him to a five-year, $15.5 million deal that included a $5 million bonus after he defected last summer.
Same 'ol Bartolo
Yankees starter Bartolo Colón returned Saturday from a hamstring injury that landed him on the disabled list and was back in form in his start against the Mets.
Colón looked like he didn't miss a beat in his first outing since June 11, throwing 80 pitches in six innings. He gave up five hits, struck out six and walked none; he has now won his last four starts.
Closing the Door
Chicago White Sox closer Sergio Santos converted all three of his save opportunities last week. Two came on back to back days against the Colorado Rockies and then Santos wrapped up another save against the Cubs.
Santos had been successful in his last seven opportunities and has 17 saves for the season before blowing a save Monday night against Kansas City; the White Sox pulled out a win, anyway.
Phil-ing in for Saves
With both of their closers out for a while, the Philadelphia Phillies and Arizona Diamondbacks turned to help within their bullpen to fill in the ninth inning role.
Antonio Bastardo has taken over the closer duties for the National League East-leading Phillies after closer Ryan Madson was placed on the disabled list. Closer Brad Lidge and José Contreras have been injured, too.
Bastardo picked up a save against the Red Sox in his first game as the team's closer, finished the ninth inning for another save without incident against Toronto, and on Monday night closed the door against Florida.
The Diamondbacks sit atop the NL West, but have gone to David Hernández with closer JJ Putz on the disabled list.
Hernández has been perfect in his two save opportunities, nailing the save against Oakland last week and then picking up a save against Milwaukee Monday night.
Adry Torres, who has covered MLB, NFL, NBA and NCAA basketball games and related events, is a regular contributor to Fox News Latino. He can be reached at elpiloto137@gmail.com or follow him on Twitter: @adrytorresnyc.
Follow us on twitter.com/foxnewslatino
Like us at facebook.com/foxnewslatino