Late strategy puts Blaney in position to battle for first win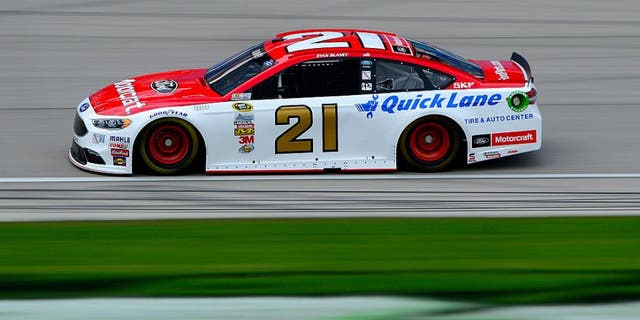 For the drivers who aren't in the Chase for the Sprint Cup, there is only one objective in the final 10 races -- steal wins from Chase drivers.
Ryan Blaney used late-race pit strategy to put himself in position to try to do that heading into a green-white-checkered overtime finish on Sunday in the Teenage Mutant Ninja Turtles 400 at Chicagoland Speedway.
"We were just trying to hold those guys off," said Blaney after Sunday's race. "I was hoping a couple more cars stayed out than that but it was worth a shot and we came home with a better finish than we would have otherwise. We weren't in contention for the win all race."
Only two other drivers -- Kasey Kahne and Carl Edwards -- stayed out, putting eventual race winner Martin Truex Jr. in fourth place on the restart with new tires.
Truex made quick work of Kahne and Edwards through the first turn and passed Blaney on the backstretch to take the lead and win the race.
Blaney held on to finish fourth, matching his career-best Sprint Cup finish with his result from the Pure Michigan 400 at MIS in August.
In his first full-time Cup season in the Wood Brothers Racing No. 21 Ford, Blaney flirted with the Chase cutoff line for most of the season but missed the Chase by 68 points.
The 22-year-old rookie impressed in the early season with five top-10 finishes before the All-Star race but finished outside the top 30 in four of the final nine races heading into the Chase.
The late-season slump sealed Blaney's fate as he fell from 14th in the standings after the Coke Zero 400 at Daytona in July, to 21st at the conclusion of the regular season at Richmond International Raceway.
As an outsider in the playoffs, Blaney has nothing to lose and plenty of experience to gain.
"We're in a position where we can take risks like that," said Blaney. "We're not in the Chase. We can stay out. ... Knew it was going to be tough when only a couple cars stayed out with us. We needed about two or three more for it to be a realistic shot."