Langi and Leuta-Douyere reliable at linebacker for Cougars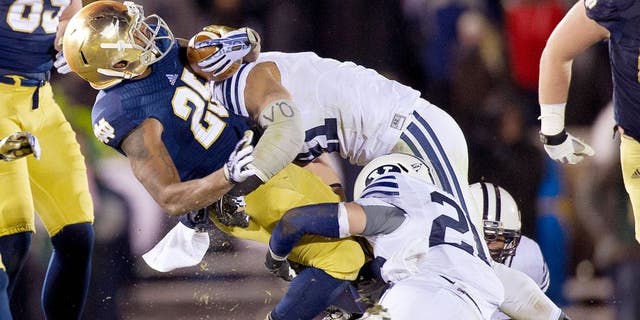 Nov 23, 2013; South Bend, IN, USA; Notre Dame Fighting Irish running back Tarean Folston (25) is tackled by BYU Cougars linebacker Uani 'Unga (41) and safety Craig Bills (20) in the third quarter at Notre Dame Stadium. Notre Dame won 23-13. Mandatory Credit: Matt Cashore-USA TODAY Sports USA Today Sports Matt Cashore
Despite losing several players due to injury and suspension this season, the BYU defense has grown more and more formidable as the season has wore on. Two big reasons for that are a pair of linebackers -- Harvey Langi and Jherremya Leuta-Douyere -- who have been quite steady in recent weeks.
"It's a work in progress. Each game he gets a little better," Tidwell said of Langi and his play so far this season. "What he adds is a physical presence. He's vocal and when he's in the right spot, he's pretty powerful and he's good on blitzes."
Langi has 40 total tackles, but perhaps more impressive is that he's notched 4.5 sacks.
(h/t Deseret Morning News)