Landon Donovan says Klinsmann should be fired if U.S. lose as former players speak out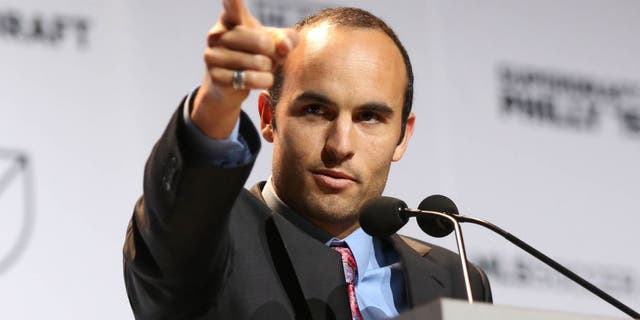 Landon Donovan and Jimmy Conrad both played for the United States at World Cups. Donovan is, of course, one of the best American players ever, while Conrad joined Donovan on the 2006 World Cup team.
Donovan and Conrad have something else in common - neither is a big fan of Jurgen Klinsmann right now.
With the U.S. in danger of missing out on the final round of World Cup qualifying and in need of a win on Tuesday night against Guatemala to leap back into an advancement place, Donovan did a couple radio shows. One was with Soccer Morning on Sirius XM.
"The sense I get, and I talk to a lot of the players, is that there's no confidence because there's no stability," said Donovan.
Klinsmann has been criticized for changing his lineup too much. He very rarely uses the same starting XI in consecutive matches and often shuffles players around from position to position.
Donovan then went on the DP Show, where he plainly stated that if the U.S. fail to beat Guatemala, Klinsmann should be let go as manager.
"If you can't beat Guatemala at home in a World Cup qualifier then you probably shouldn't be the coach," Donovan said. "It's as simple as that."
If the U.S. do not beat Guatemala, they have a less than 10 percent chance of advancing to the next round of World Cup qualifying. They will have to depend on St. Vincent and the Grenadines, ranked 141st in the world, to take points off of Trinidad and Tobago or Guatemala to advance.
The Americans' struggles stretch back before World Cup qualifying too, though. They were eliminated by Jamaica from last year's Gold Cup, ending a streak of making five consecutive finals in the competition and then lost to Panama in the third place match, making for their worst Gold Cup finish since 2000.
This is not the first time that Donovan has been critical of Klinsmann. He has cast doubt upon Klinsmann's stewardship since the 2014 World Cup, a tournament he hoped to play in, but Klinsmann controversially cut him from the team the month before it kicked off.
Conrad was not nearly as diplomatic in his criticisms of Klinsmann. The former U.S. defender, who has worked in the media since retiring, made a video blog where he eviscerated the Americans' manager.
"There has been a lot of chatter about a so-called 'lost generation' with regard to our current players, and how they should be so much better than the generation before them and they're not and blah blah blah blah blah blah," Conrad said.
"Which for me, even if there was just a little bit of truth to it, just an itsy bitsy ... It's still a total cop-out, [expletive] excuse for the coach as he continues to under-perform at his job."
Conrad didn't stop there either.
"The guy in charge gives mixed messages, plays guys out of position, throws players under the bus in the press after the game, never starts the same lineup twice in a row, and never holds himself accountable."
The Americans' struggles in World Cup qualifying, coming off a disastrous Gold Cup, were never going to sit well with fans. They're clearly not sitting well with a couple of players.
Klinsmann comes from outside the American soccer circle and has made a concerted effort to change the way people approach the game and the national team. That was always going to cause some friction and it did. But the criticism of Klinsmann was tempered in his first few years as manager because he got decent results from the team. Now, with the team struggling, his leadership is being called into question. That is to be expected and the only way to change things will be with wins.