Kyle Busch follows up on promise to homecoming kids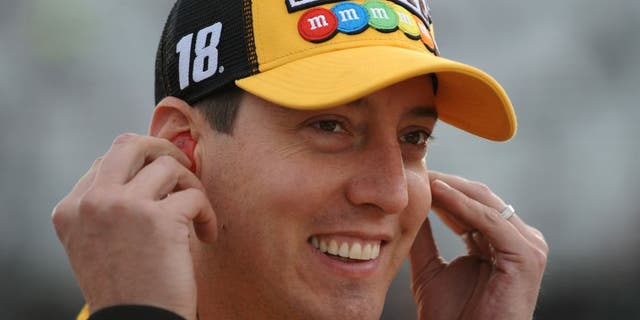 Kyle Busch followed up on a winning promise at Sunday's NASCAR Sprint Cup Series race at Talladega Superspeedway, creating more special memories for Holman Head, a special-needs student at Auburn High School in Auburn, Alabama.
To recap, Holman was asked to his homecoming dance earlier in the month by a lifelong friend, Taylor Johnson. Taylor knew Kyle Busch was Holman's favorite NASCAR driver, so she decorated her car to look like the No. 18 Joe Gibbs Racing Toyota that Busch drives in the Sprint Cup Series.
Busch saw a story posted about it, and decided he wanted to help make their homecoming experience even more special -- so he sent along a video with the surprise message.
"Hey, Taylor and Holman, Kyle Busch here. I hear that tonight is your homecoming dance," Busch said in the video delivered to the couple, according to WTVM.com in Auburn. "I also hear that Holman, you're a pretty big fan so I just wanted you to know I appreciate that... We are going to send you a No. 18 interstate Batteries Toyota Camry to give you two a ride to the homecoming dance."
Busch also sent along signed hats to wear for the occasion. Head's mother, Amy, told the television station that Busch helped provide a homecoming night for her son that he will never forget.
"He is faced with a lot of 'nevers' in his life. … He will hit the replay button in his mind (on Saturday night) over and over again," she said.
Thanks to Busch, it didn't end there. He invited Taylor and Holman to Talladega last weekend for the Hellmann's 500, where Kyle and his wife, Samantha, met up before the race and captured the moment on Twitter.