Kris Jenkins played in pick-up game at Chapel Hill with UNC players he beat in title game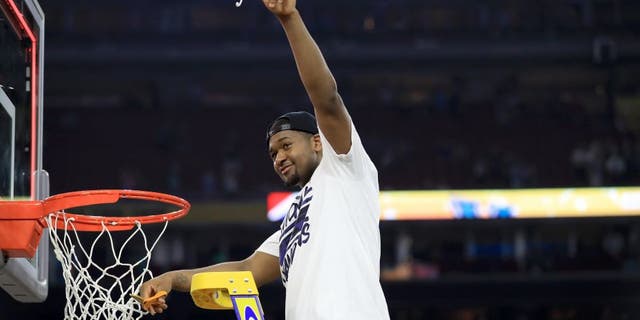 NEWYou can now listen to Fox News articles!
As hard as it is to believe, it was only two months ago that Kris Jenkins hit the greatest shot in college basketball history, the one that changed both his life and the trajectory of the Villanova basketball program.
With that shot Jenkins became nothing short of a national celebrity, and like any celebrity, Jenkins is enjoying the perks. He can go just about anywhere in the city of Philadelphia these days ... and apparently anywhere in the city of Chapel Hill as well.
Wait, what?
That's right, as part of Jenkins' whirlwind summer tour he actually visited North Carolina's campus --- where his "brother" Nate Britt plays --- and was welcomed him with open arms by the Tar Heels' team, according to an interview with ESPN Wednesday.
Jenkins, you'd think, wouldn't be terribly popular on the UNC campus... But as he arrived on campus with Tar Heels guard Nate Britt (the two, raised together after Jenkins' mother turned to the Britt family for help, call each other brothers), he was welcomed into the open gym game. He even spoke briefly to Roy Williams.
"He was great,'' Jenkins said. "Told me it was a great shot.''
Given Jenkins' obvious relationship with Britt, it shouldn't be all that surprising that Jenkins was on campus, but it is a tiny bit surprising that the Tar Heels were so eager to welcome them into their game.
That excerpt is part of a larger piece on "The Summer of Kris," which included a trip to the White House, shout-outs from Kyrie Irving and Christian Laettner, and maybe most importantly, his graduation from Villanova.
Of course, even as a busy national championship game hero is, Jenkins still has time for family, and has spent plenty of time with the Britt family.
While staying in their house, well, he's been kind enough to remind Britt of how last year's title game ended.
"When you walk into my room, there's a big flag that says, 'Villanova National Champions,''' Jenkins said. "I think Nate's been in my room twice since we got home. He tries to limit his visits.''