Kjeldsen, a little Dane with a big heart, an Open contender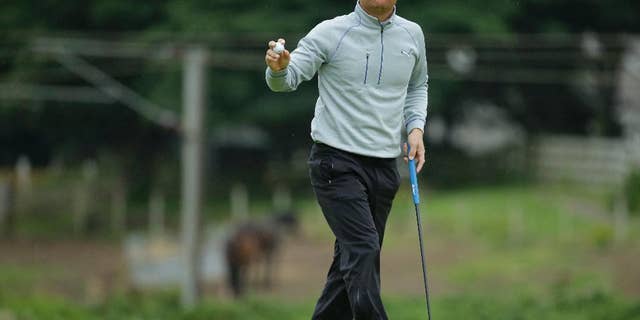 NEWYou can now listen to Fox News articles!
TROON, Scotland – Just 18 months ago, Soren Kjeldsen was wondering how he'd survive in the world of golf's power hitters.
He's 5-foot-7 (1.70 meters). Hits his drives 280 yards. He was approaching age 40 and had plummeted the world rankings. How was Kjeldsen supposed to compete in the modern game of ever-lengthening courses, against the likes of Dustin Johnson, Jason Day, and Rory McIlroy?
"The graph was going down," the Danish player said.
Now it's on the up.
Thanks to a shift in mentality, a new caddie, and a big win, Kjeldsen is a changed man — and a contender at major championships.
After finishing tied for seventh at the Masters in April, Kjeldsen is in third place — three shots behind Phil Mickelson — at the British Open on Friday following rounds of 67 and 68. He'd previously only broken 70 in two of 20 rounds at golf's oldest major.
"You certainly heard that story before when people get to 40 and then it's downhill from there," Kjeldsen said. "So I was fighting pretty hard but determined to get through, and it's nice being in this position now."
A Scandinavian male has never won a major but the drought could end at Royal Troon. Sandwiching Mickelson (10 under) and Kjeldsen (7 under) is Henrik Stenson of Sweden, who is on 9 under.
Few can have thought Kjeldsen would bloom like this. In 2014, he had his lowest finish on the European Tour's Race to Dubai since his maiden campaign in 1998 and was ranked No. 367 in the world. He also had an inferiority complex.
"My problem was mainly on the tee shots," he said. "I felt very insecure. I just felt really weak because I don't hit it a long way. You play with guys that are flying 320 (yards) and seem to hit it down the middle every time, and you do sort of wonder.
"I never considered not playing golf," he added, "but I certainly considered if I was ever going to be good enough to continue to compete."
Kjeldsen now has an open mind about that.
"We all have limitations," he said.
"I look at most of the top players, and one thing that's helped me quite a lot is getting to know the top players, I know what they struggle with. They've all got something. It doesn't matter how good you are, there's always a little "if" in there, some part of the game. So I've accepted that."
Hiring Alistair Matheson as his caddie in 2015 was also significant. Within two weeks, Kjeldsen won the Irish Open in tough conditions for his first title in six years, and the Dane responded to Matheson's enthusiasm and can-do-better mindset.
Now Kjeldsen, with his bright blond hair and smiley demeanor, is a picture of serenity on the golf course.
At Troon, he made six birdies in his first round and then went bogey-free in the wind and rain for the third-lowest score among the morning starters in the second round. His short game, which he describes as "very strong," is holding up as usual.
"I think the biggest difference now is like when I go into a major like this, I feel normal," Kjeldsen said. "I don't make it more important than anything else really. I know the importance of the tournament, but I also know that for me to perform well, I need to get into my little world and get lost in that.
"And if I control what I can control, then I'm doing OK. And that's what I learned from Augusta."
And if the wind is howling and the rain is pouring on the weekend, don't bet against the little Dane with the big heart.
"These conditions (are) what I grew up in," Kjeldsen said. "I like playing this kind of golf. I like the battling mentality that you need to play. Yes, I do thrive in this."