Kings hoping for 'road-ice advantage' at home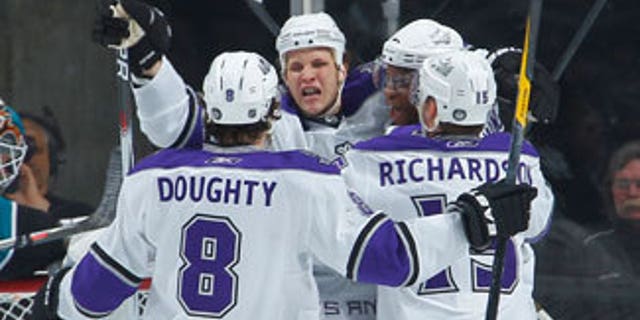 EL SEGUNDO, Calif. -- It was suggested to some of the Los Angeles Kings that they wear their road white jerseys for Game 6, even though it's at Staples Center.
Or perhaps they should stay at a hotel to recreate the road experience?
"I think last year we tried that," winger Wayne Simmonds said. "It doesn't always work the way you want it to."
The Kings are trying to reverse a curious trend of road teams' success in the 2011 Stanley Cup Playoffs. It has held particularly true in their Western Conference quarterfinal matchup with San Jose, as the visiting team has won four of the five games.
While it won't don its road whites, L.A. is taking a visiting-team approach to Monday night.
"I think we ought to treat this as an away game for ourselves," Simmonds said. "Just concentrate on what we can control. The refs and stuff, that's kind of out of our hands. We've got to keep moving our feet and make sure we're getting calls our way."
The Kings are especially wary because their previous two home playoff games have been disastrous. They blew a 4-0 lead en route to a 6-5 overtime loss in Game 3 and again allowed the Sharks offense to pump in six goals in Game 4.
They have outscored San Jose by an aggregate 8-1 in the first period, but that Game 3 meltdown skews the statistic slightly.
"To let a lead like that go, it can't happen," captain Dustin Brown said. "We have to take that and use it tonight -- if we get up early in the game we've got to be able to lock it down."
Los Angeles is attempting to come back from a 3-1 series deficit to win for only the second time in franchise history. It beat Edmonton in the 1989 Smythe Division semifinals.
San Jose has never lost a series when leading 3-1.
But the unpredictable nature of their games says anything can happen.
"It's been a roller coaster of a series," Brown said. "We've been up, we've been down. We've pretty much done everything. We have to get off to a good start. Having the type of game we had last game really helped us in our confidence early on. We've had good starts pretty much every game except for Game 1. I think that's the key for us tonight."
Past is prologue: The Kings are in the exact predicament as last season in having to win Game 6 at home to force a Game 7.
In 2010, L.A. fell to Vancouver, 4-2, and Murray remembers his squad failing to convert a breakaway and a two-on-one in the third period that could have sealed a victory. The Canucks ended up rallying for three goals in the third.
Will that be a teachable moment for tonight?
"I hope the experience of last year has been a benefit to our playoffs this year," Murray said. "Those are critical moments in the game. You need to identify it. You need to take advantage of it in a playoff situation because they're few and far between in that stage in a game. Both teams, I think, are going to be very responsible checking hard if it goes into the third period a tie game."
Brown remembers that it wasn't one big mistake but numerous small ones that led to their demise last season.
"That goes a long way in this room -- eliminating those tiny mistakes," he said. "That's going to be the difference."
Parse up to par: Murray expressed no reservation about sticking with winger Scott Parse, who was inserted into the lineup for Game 5 in his first game since November.
Parse did have an egregious turnover that led to a San Jose breakaway, but overall he has justified Murray's decision.
"We can't give him time to get his rhythm, to get his game going," Murray said. "He needs to give us some performance right away. I thought he did."