Keith Marshall's 40-yard-dash stumble may have cost him a combine record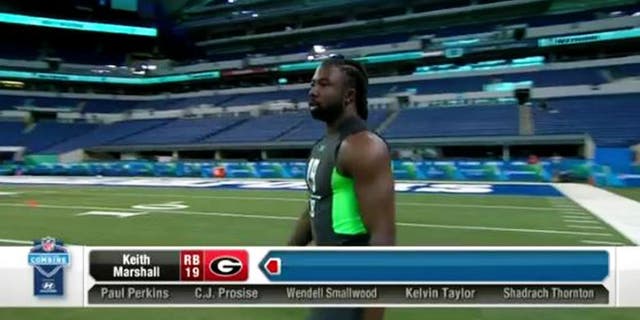 NEWYou can now listen to Fox News articles!
Former Georgia running back Keith Marshall clocked an official 40 time of 4.31 on day 1 of the NFL Combine on Friday, falling less than one-tenth of a second short of breaking Chris Johnson's combine record of 4.24.
Marshall might have actually eclipsed that record if he hadn't been leaning too far forward, which caused him to stumble a few strides into his second sprint of the day.
The blazing 40 is the third-best time over the last 10 years, behind Johnson and Jets running back Dri Archer (4.26). And oh yeah, Marshall also led the way for running backs on the bench press, throwing up 225 an impressive 25 times.
One of the knocks on Marshall was whether or not he'd be able to regain his speed after tearing his ACL in 2013. It looks like he was able to answer that question Friday.