Kansas was another disappointment for Joe Gibbs Racing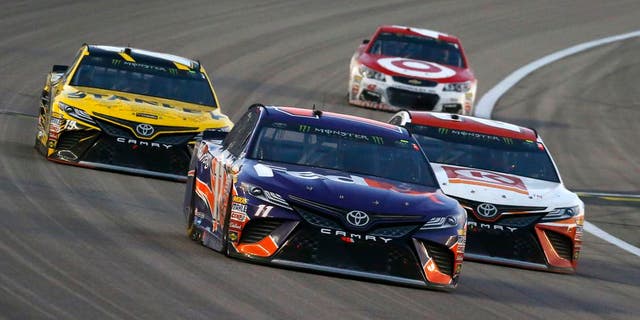 Saturday nights Go Bowling 400 at Kansas Speedway was another disappointment for one of NASCARs most dominant teams, Joe Gibbs Racing.
The four-car JGR fleet wasnt horrible, with Kyle Busch finishing fifth and teammate Daniel Suarez coming home seventh. Matt Kenseth wound up 12th and Denny Hamlin 23rd.
Still, the team wasnt able to win, while Toyota driver Martin Truex Jr. captured his second victory of the year with a dominant performance at Kansas.
Considering JGR had six wins at this point last year but is winless now, one top-five finish and a pair of top 10s is something of cold comfort.
It just seemed like other guys got better than us. We tried to adjust on our car and it never really made it better, said Busch, who won Stage 1 at Kansas. The M&Ms Camry was fast when the sun was out. We were pretty quick up there riding the high side and doing a good job.
But as the day turned to night, Buschs car didnt improve as much as some of the competition.
We won the first segment and then the second segment I thought we were had a shot to win that one as well, too, said Busch. I think we were third in that one and once it got dark out we just kind of lost it.
Busch, a past series champion, understandably hoped to finish better than he did. Busch left Kansas seventh in points, tops among the four JGR drivers, as he has been for most of the season.
Suarez, on the other hand, is a rookie and to match his career-best finish with a seventh-place run was a little more satisfying.
It was good. Very proud of the way that that the car worked the entire race. Scott (Graves, crew chief) and the guys they did a very good job, said Suarez, who is 19th in points. We had a top-10 car and thats exactly where we ended up. Very happy for the performance of the car and looking forward to keep digging, keep working and keep learning for next weekend.
Russell LaBounty | Russell LaBounty LAT Images www.latphoto.co.uk