Julianna Pena: 'I think it's ridiculous' Miesha Tate got passed over for a title shot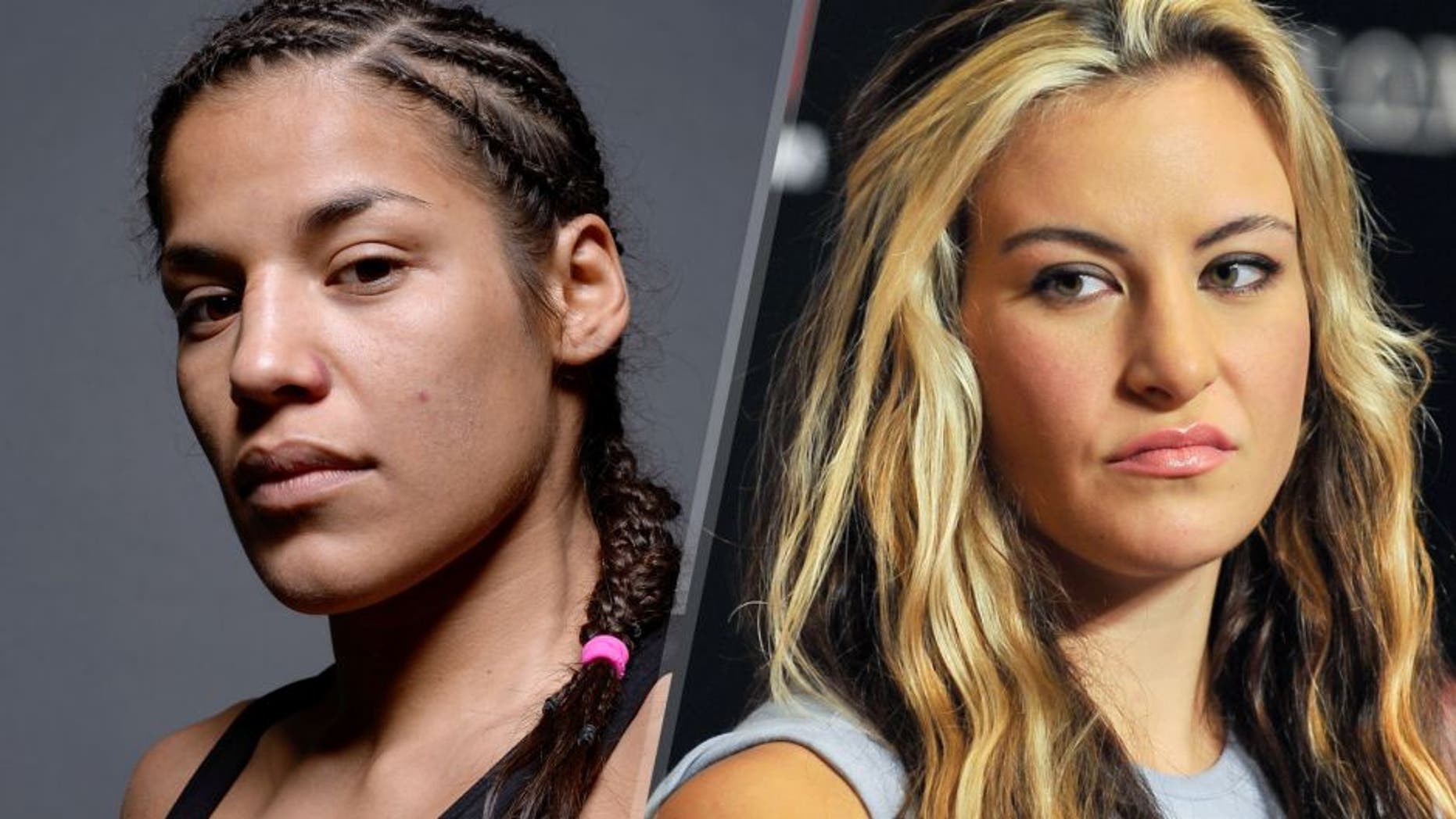 Julianna Pena might be closing in on a title shot in the UFC women's bantamweight division following her next fight against Jessica Eye on Oct. 3, but in a perfect world she'd be watching her good friend Miesha Tate battle for the belt next.
Tate was expected to face current champ Ronda Rousey with the title on the line, but was ultimately passed over in favor of undefeated MMA prospect and former boxing champion Holly Holm.
Rousey has already defeated the former Strikeforce champion on two occasions and UFC president Dana White has stated that's why they decided to go in a different direction, but it didn't sit well with Tate and it certainly doesn't sit well with her former student on "The Ultimate Fighter" either.
"I think it's ridiculous," Pena told FOX Sports when asked about Tate being passed over for a title shot. "Miesha has put four wins together and she's been knocking off every girl that the UFC gave her.
"So I think that it's totally unfair and I don't like the way that she found out about it. I definitely think she earned her shot to get a title shot again. I thought it was a little weird and unfair and I didn't agree with it."
Tate found out Rousey was facing Holm the same way everyone else did -- when the fight was announced on national television. She's been perturbed ever since that the UFC didn't at least give her a courtesy ring to say that the fight was going to Holm instead.
Pena is sympathetic towards Tate's plight, especially considering the work she's done lately to earn a third crack at denting Rousey's seemingly untouchable title reign.
At the same time, Pena understands that the UFC has a way of figuring out the best matchups possible and that's why she's trusting in the bouts she's received since leaving the reality show, including her first chance at a top five opponent like Eye.
She also knows once a decision is made, that's the end of it.
As much as Pena would like to see Tate get the next shot at the belt, that ship has already sailed and complaining isn't going to do much for her career much less help her friend land a fight with Rousey in the future.
"The machine is very calculated with the way that they do things or the way that they figure out ticket sales and I'm almost in the position where I'm like I'm not going to shoot myself in the foot," Pena said. "Whatever Dana White wants and whatever Dana White decides, that's the way it is and that's what it's going to be."
In the same conversation where White shot down Tate as the No. 1 contender, he also mentioned Pena as a potential future opponent for Rousey not only because is she a rising star in the division, but she's never fought for the title before.
Tate's two previous losses to Rousey seem to be the anchor weighing down her chances to land a third fight with the champion, but Pena is still waiting for her first shot at the gold.
Knowing that White has at least thought about her fighting for the title at some point down the road is the best news possible for Pena, who still isn't calling for a shot at the belt but understands why it's good to be on the UFC president's radar when that time comes.
"My eyes are so wide right now because I didn't know that he said that! I didn't know he said that. That's quite the compliment," Pena said. "It makes me feel all warm and fuzzy and I get the feels when I hear stuff like that because it's a good feeling.
"I think it's great that he is paying attention to me and he knows in the back of his mind that I am a force to be reckoned with. It's a good feeling."