Juan Manuel Marquez Post Bout with Manny Pacquiao, 'I'm a Clean Fighter'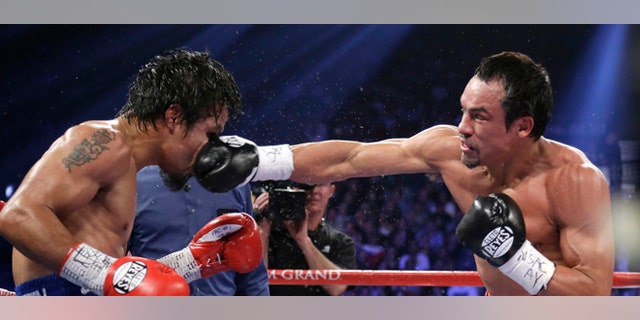 Las Vegas – Juan Manuel Márquez's knockout of favorite Manny Pacquaio on Saturday night in Las Vegas had some boxing fans crying foul.
But Márquez promises he is a "clean fighter" and says is confident his drug tests will come back negative.
"I feel very happy with my training, I feel great about the tests," Márquez told the Los Angeles Times. "I won't have a problem."
I felt he was coming to knock me out the last three rounds and I knew he was going to be wide open
Speculation began when Márquez presented a noticeably more toned physique. Even though weighing in at 143 pounds, Márquez was four pounds lighter than Pacquiao.
As ESPN reported, Márquez said he had been working on bulking up with the help of strength conditioner Angel "Memo" Heredia, who called the boxer a "hulk" in a news conference prior to the fight.
The comment fueled rumors that Márquez may have been hitting more than just the gym.
Márquez was quick to deny this telling the L.A. Times, "I don't like to use substances. I didn't. I trained hard."
"If I continue fighting, I'd like to do Olympic-style anti-doping tests with my opponent," he added.
The Mexico native could not be happier to have put the rivalry between him and Pacquiao to rest –– for now.
"I'm very happy I finished it by a knockout, because everyone knew what happened in my last three fights, and I never knew what was going to happen with the judges," Márquez told the LA Times. "I won this fight myself. I won this victory. And I'm very happy."
On Thursday Márquez is scheduled to present the gloves he used to defeat Pacquiao to Mexico's president Enrique Peña Nieto.
"Right now, I feel so good about that. It feels like the Mexican people are very happy too."
Márquez had vowed to finally beat Pacquiao after losing two close fights and settling for a draw in the first fight. But after Pacquiao knocked him down in the fifth round and was landing big left hands, it looked like it would be Pacquiao's night.
The two came out for the sixth round and the pace was just as relentless. Both were landing big punches and both were brawling when suddenly as the round came to close Márquez shot out a right hand that landed flush to the jaw of Pacquiao, who crumpled to the canvas in a heap.
"I felt he was coming to knock me out the last three rounds and I knew he was going to be wide open," Márquez said.
The stunning knockout was the first real loss by Pacquiao in seven years. He lost a close decision to Bradley in his last fight, but most ringside observers believed he had won it fairly convincingly.
Follow us on twitter.com/foxnewslatino
Like us at facebook.com/foxnewslatino