Joseph Duffy injured, UFC promotes Louis Smolka vs. Paddy Holohan to main event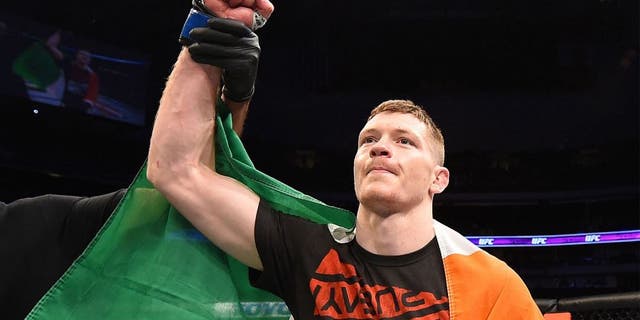 DALLAS, TX - MARCH 14: Joseph Duffy celebrates after defeating Jake Lindsey in their lightweight bout during the UFC 185 event at the American Airlines Center on March 14, 2015 in Dallas, Texas. (Photo by Josh Hedges/Zuffa LLC/Zuffa LLC via Getty Images) Josh Hedges/Zuffa LLC
The main event for this weekend's UFC Fight Night card in Dublin, Ireland has been called off due to Joseph Duffy suffering a mild concussion in training earlier this week and his fight against Dustin Poirier has been cancelled.
The flyweight bout between Louis Smolka and Paddy Holohan has now been promoted to a three-round main event slot on Saturday's card.
"Due to a medical issue involving UFC lightweight Joe Duffy, the new main event of UFC Fight Night in Ireland on Saturday will be a three-round bout featuring hometown hero Paddy Holohan vs. Louis Smolka," UFC officials said in a statement on Wednesday.
"Having learned that Duffy received a strike to the head during training earlier this week, UFC sent him for medical tests in Ireland for precautionary purposes. The results determined that Duffy suffered a mild concussion and due to the proximity of the fight this Saturday, UFC will not permit him to compete. The health and safety of UFC athletes will continue to be the top priority for the organization. As such, UFC has respected standard athletic commission regulations, which recommend a medical suspension from competition as a result of the concussion."
Duffy was set to main event his first UFC card after debuting with the promotion earlier this year. The show was the second straight time the UFC traveled to Dublin after a highly successful card last year featuring hometown favorite Conor McGregor in the main event.
This time around Duffy got the honor of headlining a show in his home country, but now the fight has been cancelled and there's no word on when he might be able to return.
Duffy took to his Instagram page on Wednesday to apologize to Poirier and the fans for being forced out of the fight just days before he was set to step inside the Octagon.
As for Poirier, UFC officials stated that he will be rebooked for a new fight and a different card at a later date.
The UFC is also offering refunds to fans who purchased tickets to the event and the main event changed just three days before the card was set to take place.
"Fans seeking ticket refunds as a result of the main event changes can do so through Ticketmaster at the point of purchase," UFC officials stated.
The main event being scrapped is just the latest disaster to strike the UFC card in Dublin after the co-headliner between Stipe Miocic and Ben Rothwell was cancelled a week ago. Miocic suffered an injury and the UFC was unable to secure a replacement so the bout was pulled.
Now UFC Fight Night in Dublin moves forward with Smolka vs. Holohan as the new main event with 10 total bouts on the card.