Jorge Masvidal stops 'Cowboy' Cerrone with stunning second-round TKO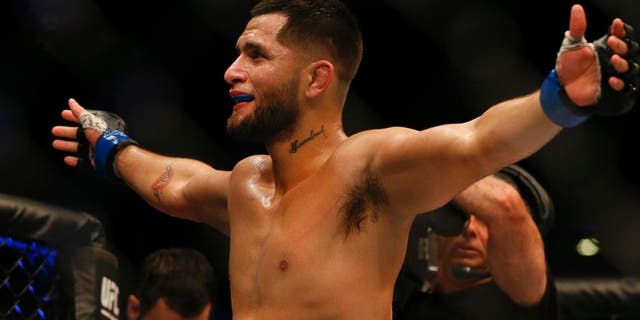 Jorge Masvidal promised a jaw-dropping performance if the UFC granted him a matchup with Donald "Cowboy" Cerrone and he delivered with a stunning second round TKO on Saturday night.
Masvidal went on a very public campaign to face Cerrone following his last win over Jake Ellenberger and he didn't hesitate to accept even when the fight was taking place in his opponent's hometown.
From the opening bell, Masvidal looked confident during his exchanges with Cerrone as he established an early jab while taking advantage of a reach advantage on the feet.
"Cowboy" countered by feeding Masvidal a steady diet of leg kicks that left the American Top Team fighter with a red welt growing on his leg throughout the opening round.
While Cerrone was content to use kicks for the majority of his offense, Masvidal refused to back down and continued to look for an opening to land his punches.
With just seconds remaining in the opening round, Masvidal uncorked a vicious combination that sent Cerrone crashing to the mat. Masvidal quickly followed up as referee Herb Dean swooped in to stop the punishment, but the horn sounded at the exact same time leading to some confusion in the moment.
Dean declared that the round was over and he allowed Cerrone to get back to his corner for the one-minute interval to recover. Unfortunately, things didn't get better for Cerrone as he came out in the second round with Masvidal still on the attack looking for the finish.
Just as Cerrone tried to land a combination, Masvidal countered with a lightning fast barrage in return that sent his opponent back down to the canvas. Cerrone was able to stave off the attack to get back to his feet, but Masvidal wasn't letting up until the fight was finished.
Finally, Masvidal unleashed a hellish string of punches to the head and body as Cerrone could only cover up until the referee finally saw enough.
The stoppage came at exactly 1:00 into the second round.
Afterwards, Masvidal called out UFC president Dana White to find him a worthy competitor as he moves to 3-0 as a welterweight while knocking off one of the top five fighters in the world at 170-pounds.
"There's a lot of dudes in this crowd who fight that when my name gets brought up, they end the call," Masvidal said.
"I'm a real fighter. Dana White, bring me somebody that can beat me. I've got $200K. You can't fight nobody that can beat me. Take me up on the bet, Dana."