Jordy Nelson K-State memory: Watching Sproles and Bishop play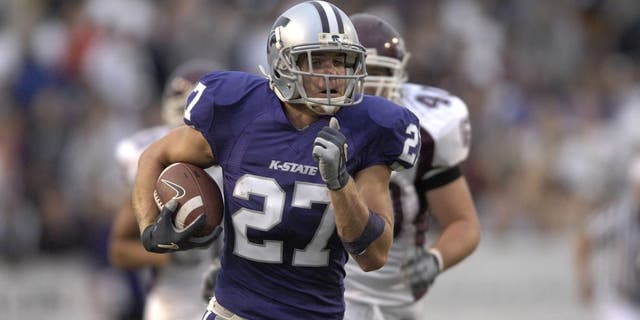 MANHATTAN, Kan. -- Jordy Nelson's favorite Kansas State memory doesn't involve a record, recognition or even an iconic moment such as carrying Bill Snyder off the field following the coach's final game of his first tenure with the Wildcats.
The Green Bay receiver's fondest memory is tailgating as a teenager with friends and family before watching Darren Sproles and Michael Bishop play. It's also finding time for an impromptu pickup game on a hill on the northeast corner of Bill Snyder Family Stadium.
Nelson, out for the season with a right knee injury, hasn't tailgated in more than a decade. He hasn't stepped foot on the berm in years either, though he is disappointed to see it has shrunk as Kansas State prepares to finish renovations next year by enclosing the stadium.
But before Kansas State takes the field against South Dakota on Saturday, fans can expect to find Nelson tailgating once again. They might also spot him on the grassy knoll reminiscing before joining Sproles, Bishop and Clarence Scott on the field at halftime as they become the third class to be inducted into the Kansas State Football Ring of Honor.
"Myself, my family, ever since we found out, we've been looking forward to this," Nelson said Friday at a Ring of Honor event. "We have a big group coming. I'm going to get to do some tailgating that I haven't been able to do for like 12 years -- things like that you miss. I'm looking forward to it. It's going to be a good weekend."
Together, Nelson, Sproles, Bishop and Scott are regarded as the best in Kansas State history at their respective positions.
A former walk-on, Nelson finished his career with 2,822 yards and 20 scores. He was named a 2007 consensus All-American and went on to be taken 36th overall by the Packers, where he won a Super Bowl and was named to the 2014 Pro Bowl.
Sproles became one of the most dynamic all-purpose players in Big 12 history during his time with the Wildcats. Known for his speed and shiftiness, Sproles finished with 6,812 career all-purpose yards. He finished fifth in the Heisman Trophy voting in 2003 after leading Kansas State to a Big 12 title and BCS berth.
Bishop led the Wildcats to their first No. 1 ranking and nearly captured the program's first Heisman Trophy, finishing second to Ricky Williams in 1998. He played two seasons at Kansas State, compiling a 22-3 record as a starter, before entering the NFL Draft in 1999.
Scott, the only player of the bunch to not play under Snyder, helped the Wildcats break a 16-year streak of losing seasons in 1970. His 12 career interceptions ranks fifth all-time in school history.
"To be up there with all the greats," Sproles said, "it's actually big. I grew up watching guys like Michael play, so to go in there with him and the other guys is big."
The Ring of Honor class -- minus Scott, whose flight was delayed -- spent the afternoon Friday retelling stories of their time in the Little Apple. It was the first time ever that all three were in the same room together.
Nelson told the story of the time Snyder wore a winter coat during a three-hour training camp practice in the blistering Kansas heat. He said Snyder wanted to give his players zero reasons to complain.
Sproles glanced at the new Vanier Family Football Complex and quipped that the current crop of athletes have it easier now than when he was at Kansas State.
"We had no wiggle room," he added with a smile.
Bishop downplayed the disappointment of finishing runner-up in the 1998 Heisman Trophy race, but added that Williams later told him he should have won.
All three settled on how Kansas State prepared them for the NFL on the field through work ethic and off in values -- not exactly a coincidence with their names being etched on a display alongside Snyder's 16 Goals for Success.
"I don't know if there's a program out there that works as hard as K-State, especially when Coach Snyder is here," Nelson said. "It's made the transition to the NFL really easy, especially practice wise. The game up there is a completely different game; you don't put in near as many hours on the field. Even the weight room workouts aren't near as tough because your body type is different.
"I think the work ethic and the discipline is what carries a lot of the K-State football players into the next level. And the ones who succeed, you can see why."
Nelson has unquestionably succeeded and surpassed expectations, but that's of little concern to him this weekend.
On Saturday, he'll get to tailgate again. His favorite game-day tradition.
"I can't wait," Nelson said.