John Lynch absolutely nailed his first draft night as 49ers GM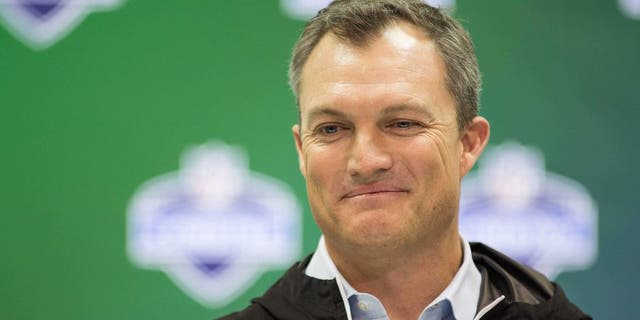 The San Francisco 49ers took a leap of faith by hiring former NFL safety John Lynch as their next general manager. He made the daunting jump from the broadcast booth to the front office, a career change that proved to be too difficult for the likes of Matt Millen.
It was a risky move, but its already paying dividends. Lynch absolutely nailed his first draft night as general manager.
Holding the second overall pick, everyone expected the 49ers to take Solomon Thomas, the remarkably talented defensive lineman out of Stanford. In a draft with so much uncertainty, that was the connection that seemed most likely to happen.
It did, but not at No. 2. Lynch fleeced the Bears for three additional picks before landing his guy.
AP/Copyright The Associated Press. All rights reserved.
The 49ers moved back one spot from two to three bringing in a third- and fourth-round pick in 2017, and an additional third-rounder next year. All that for one spot.
The Bears dont believe they overpaid for the pick because they landed their quarterback of the future in Mitchell Trubisky, but giving up three additional picks to do so was costly.
Lynch worked the phones like a veteran general manager, fielding offers from a number of teams for the second overall pick. That was always the target landing spot for the top quarterback, a spot the 49ers obviously werent comfortable taking one.
Rather than remaining idle and taking Thomas at two, Lynch used his leverage and worked the perfect trade for the 49ers. They didnt have to move down to No. 12 with the Browns to get out of the two-hole. They didnt need to move down to No. 6 with the Jets.
Lynch moved down one spot and guaranteed he was still going to get the guy he targeted all along. Thats brilliant.
Now, the 49ers have a very formidable front on defense. Theyve gone defensive line in the first round the past three years, shoring up a defensive line that was very suspect in recent seasons.
The 49ers allowed 2,654 yards on the ground in 2016, which was the most in the NFL. Thomas is outstanding against the run and can generate pressure from anywhere on the defensive line.
Kelley L Cox-USA TODAY Sports
San Francisco will be thrilled to have him on defense, in addition to the extra three picks it landed by trading back one spot.
Lynch is off to a great start as a front-office man.