John Force is definitely a streaker, with his firesuit on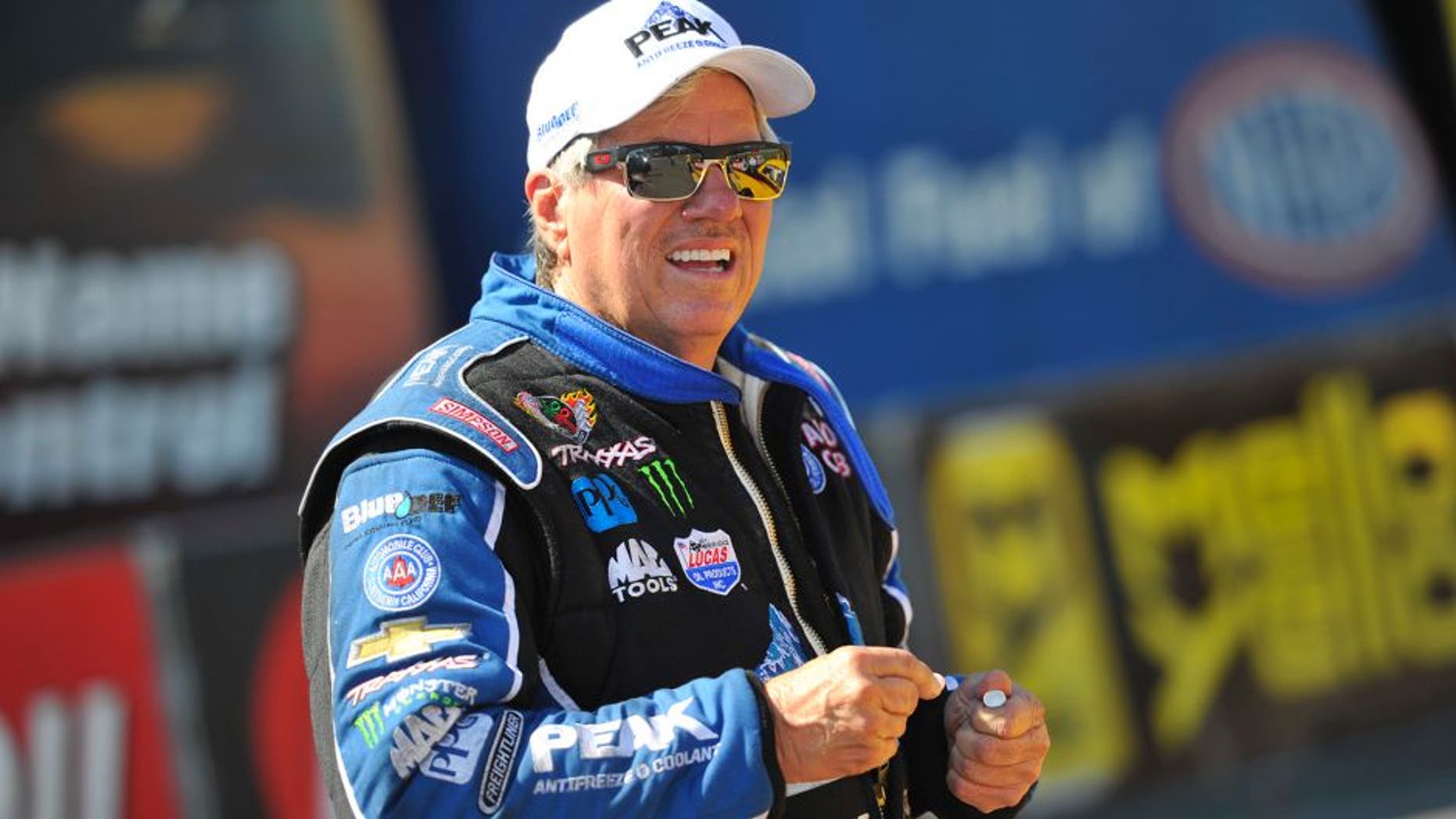 If John Force can win Sunday's Funny Car final eliminations, it will provide the impetus for the 16-time champion to dust off his "been there, done that" t-shirt he last wore in 1994.
In 1994, Force became the first and, thus far, only Funny Car driver to sweep the NHRA's famed Western Swing. The Western Swing is a grueling three-race stretch which takes teams from the high elevations of Denver, Co., to the wine country of Sonoma, Ca, and concludes the great Northwest of Seattle, Wash., all on consecutive weekends.
Force came awful close to repeating the feat in 2003 but lost in the semi-finals with one race left.
That was then, and this is now. The Peak/Chevrolet-sponsored driver is in a resurgence the likes of which he hasn't seen since 2013 when he won back-to-back races to capture his most recent Funny Car title. Bear in mind, Force has won at least two races in a row 28 times including his current two-race streak.
Though Force has every reason to exude confidence, he's remaining conservative in his streaky stretch of success.
"It doesn't matter how good you are. How much you are outrunning the pack. I am not outrunning the pack I am running with it," said Force, who is qualified No. 10 after two sessions. "The Worshams are right there and so are all of the Schumacher teams. My daughter Courtney is out running me every week just like Robert Hight," conceded Force. "It is the toughest Funny Car pack I have ever seen. To win the Swing, a lot comes into play. The pressure comes in from the media and the fans. Then you can't let your mindset change. You have to be able to run with the pack. Keep your mindset right and you need destiny."
Force is hardly a pacesetter thus far this weekend, but the numbers don't lie when it comes to racing on Sunday in Seattle.
Force has eight career wins in 10 final rounds and commands a 55-19 win-loss record. Should he remain qualified 10th, Force's record as a bottom-half seeded entry includes a final round and semi-final appearance, meaning, he can win from anywhere in the 16-car field.
If Force can win Sunday, it will the 13th time in his career he's pulled off a three-race streak.
Then heading into Brainerd in two weeks, Force would be looking to build on another stat. He has only won four-straight races twice.
***
Bobby Bennett is the Publisher/Editor of CompetitionPlus.com, a leading independent online drag racing magazine, since 1999. For the latest in dragster news worldwide, visit www.competitionplus.com or follow on Twitter @competitionplus