Jason Witten answers retirement question after heartbreaking loss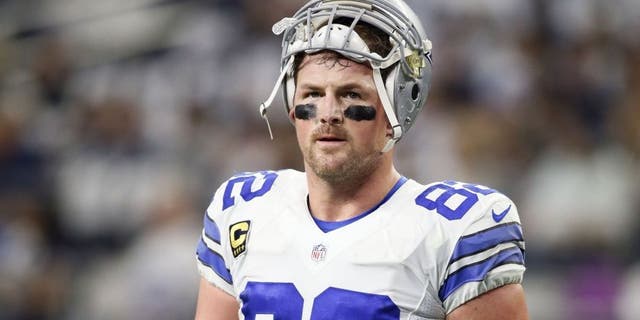 NEWYou can now listen to Fox News articles!
The Dallas Cowboys are in good shape for the future. Dak Prescott, Ezekiel Elliott, Dez Bryant and the offensive line are young, and just about all of them are under contract for the foreseeable future. Sunday's loss obviously stings for Dallas, but the road ahead looks promising.
While that's certainly true, you also have to look at the other side of the coin -- the side that features aging veterans like Jason Witten, Tony Romo and Doug Free. They're veterans who are running out of time, whose windows to win a Super Bowl are closing. Romo has likely played his last game in a Cowboys uniform, but Witten is still under contract and the always-durable tight end plans to be back in the fold for another run in Dallas.
"I haven't really thought about it," Witten said, via the Dallas Morning News. "Every year when I'm empty at this point, it's just you gave everything you got, and I'll take time to reflect on it. I love this team and this group of guys, and so, yeah, that will be the plan for sure."
The "plan" Witten's referring to is returning to the Cowboys next season, rather than opting to retire after 14 seasons. He realizes his window is closing and that every player has to retire at some point, but Witten's time hasn't come.
"I'm in my 14th year, and you know there's a shelf life for everybody. You put everything you have into it, and when you come up short it's tough. It's not about a paycheck. It's about an opportunity to compete and lead and win and play in these types of games. This team had a special feel all the way through, and to come up short like that for me is hard."
He's still an integral part of the offense despite being a step slower and a tad less athletic than he was as a rookie. On Sunday, he had several key receptions late in the game, including one that helped set up Dan Bailey's game-winning field goal. He caught a total of six passes for 59 yards.
Those numbers don't mean anything, of course, considering the Cowboys were bounced in their first playoff game once again. Despite being in his 14th year, Witten has still never reached an NFC Championship game, and he's well aware of that fact.
"It's tough for me to swallow that. It's not about any one individual," he said. "I'm proud of this team. I really have my whole career I've tried to work really hard to not make it about me, and that's why there's emotion that goes along with this."
The Cowboys, despite Witten's planned return, will have to address the tight end position at some point, possibly in this year's draft. Finding a successor to a Hall of Fame-lock won't be easy, but it's a harsh reality.