Jared Allen's transition to outside linebacker is coming along nicely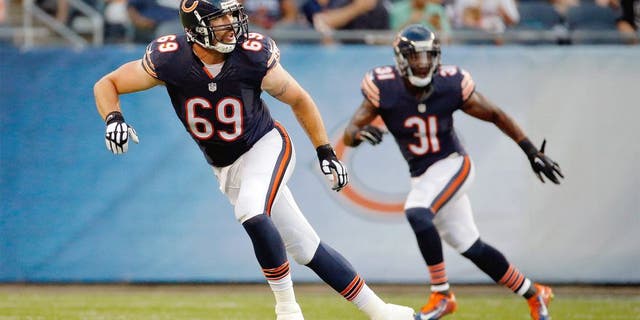 NEWYou can now listen to Fox News articles!
After 11 seasons with his hand in the dirt, the Chicago Bears asked Jared Allen -- the NFL's active sack leader (134.0) -- to switch positions. With the team undergoing a scheme shift from a 4-3 to a 3-4 under new defensive coordinator Vic Fangio, the Bears needed Allen to make the transition from his natural defensive end position to outside linebacker.
The transition has taken some time, but Allen is starting to come along. The 33-year-old pass-rusher is still driven to be the best player he can be -- regardless of position.
"If I was going to practice and it just wasn't it for me, I'd go tell the coaches, like, 'This ain't for me,'" Allen said, per Rich Campbell of the Chicago Tribune. "I know I can play at a high level, and that's what I'm excited about. But it's just continuing to master that craft."
It has taken all spring and summer for Allen to get to where he is today. And it will continue to be a learning experience, as the veteran tries to find his footing in unfamiliar territory this season.
The differences between 4-3 defensive end and 3-4 outside linebacker are sometimes subtle, but Allen has made it his goal to master them.
"It's an extra step here, a half-less step here," Allen said, via the Chicago Tribune. "It's fine detail, minute stuff. Just repetition, repetition, repetition, repetition, repetition."
Allen is coming off a career-low 5.5-sack season, leading some to wonder whether his time has passed. Before last year, he recorded double-digit sacks in seven consecutive seasons, including a league-leading 22.0 in 2011.
(h/t Chicago Tribune)