Jaguars sign 7th-round pick FB Marquez Williams to rookie contract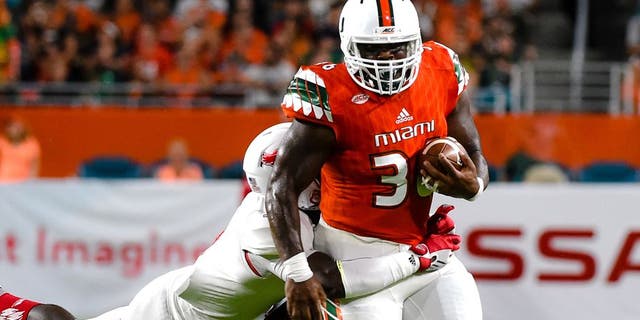 JACKSONVILLE, Fla. (AP) -- Fullback Marquez Williams, a seventh-round draft pick from Miami, has signed his rookie contract with the Jacksonville Jaguars.
Williams signed his deal Friday, after beginning a three-day rookie minicamp. Under the NFL's rookie salary system, Williams' contract is expected to be a four-year deal worth about $2.5 million that includes a signing bonus of $70,000.
Williams says "it's kind of crazy, to be honest. Everybody dreams of being able to do this, so to be able to see my name on this contract, it's unreal."
Williams is one of two fullbacks on Jacksonville's roster, joining veteran Tommy Bohanon. Williams will get a shot at blocking for Leonard Fournette, who is expected to be the centerpiece of new coach Doug Marrone's run-heavy approach.
The 240th overall pick in the draft, Williams spent three years at Mars Hill University in North Carolina before transferring to Miami for one year.