Jacksonville Jaguars' Blake Bortles helps deliver meals to officers working mass shooting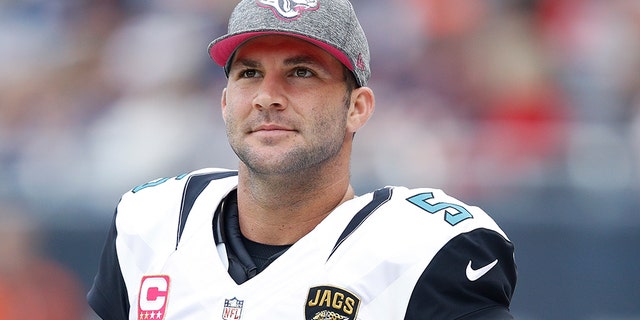 Blake Bortles, quarterback for the Jacksonville Jaguars, showed his appreciation for the brave officers who reponded to Sunday's deadly shooting at a local "Madden NFL 19" gaming tournament.
The NFl star and his foundation provided first responders with hot meals at two different times on Monday. According to ESPN's Adam Schefter, Bortles "paid for meals for everyone on scene at Jacksonville Landing."
In a handwritten note, Bortles wrote, "Thank you for everything that you do! Your service today & everyday is greatly appreciated!"
Police thanked Bortles for his caring act in a tweet Monday.
"It's been a long couple days and we are so appreciative for your kindness," the Jacksonville Sheriff's Office replied.
Bortles' foundation also tweeted its appreciation for the "bravery and courage that's unanimously displayed for our community," and thanked those who continue to aid Jacksonville in wake of the mass shooting.
The sheriff's office has been working round-the-clock since Sunday afternoon, after a 24-year-old gamer — who lost the "Madden" tournament in which he was competing — used a handgun to target players inside of a restaurant at The Landing.
JACKSONVILLE GAMING TOURNAMENT SHOOTER HAD BEEN HOSPITALIZED FOR MENTAL ILLNESS, DOCUMENTS SHOW
Taylor Robertson, 27, and Eli Clayton, 22, were identified as the two victims of the shooting. Electronic Arts, which develops the "Madden" game, called their deaths "an inconceivable tragedy."
"Many of us at EA knew Elijah and Taylor well, and their positive, competitive spirit and respect for other players were evident to everyone," the company said. "They earned the admiration of all who watched them compete, and we will miss them greatly."