Is Conor McGregor jeopardizing career with his erratic behavior, or ginning up interest in next move?
NEWYou can now listen to Fox News articles!
Conor McGregor's fight record speaks for itself, with 21 wins in 24 career fights and only one loss since he made his debut with UFC in 2013.
"The Notorious" champion, however, has recently caused more controversy with his mouth and out-of-the-octagon antics than with his fists and feet, culminating in his arrest in Brooklyn, N.Y., on Thursday night.
McGregor was out on $50,000 bond Friday, with a court date set for June 14, the New York Post reported. He could face seven years in prison if convicted on charges of felony criminal mischief and misdemeanor counts of assault, attempted assault, menacing and reckless endangerment, the report said.
So is McGregor's career careening out of control, or, like the Greatest himself, Muhammad Ali, is the Irishman as good as ginning up interest in his fights as he is fighting them?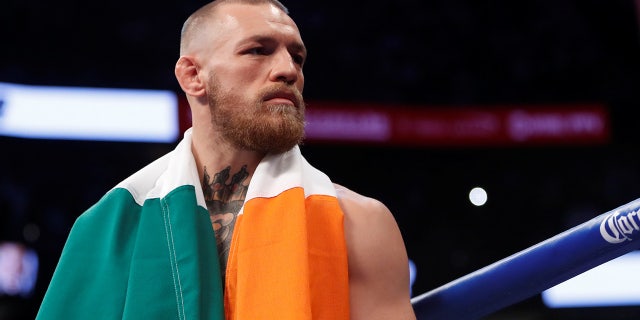 Thursday's terrifying incident at the Barclays Center was the latest in a string of McGregor meltdowns. He was charged with three counts of assault after he was caught on video throwing a hand truck into a the window of a bus filled with rival UFC fighters.
The alleged assault came after one of McGregor's teammates got into an altercation with members of UFC 223 headliner Khabib Nurmagomedov's team. The chaos was apparently in "retaliation" for Nurmagomedov slapping McGregor's teammate Artem Lobov at a hotel, MMA Fighting reported.
In October 2017, McGregor was escorted away from the cage during Lobov's fight because he wasn't an official part of Lobov's corner, according to CBS Sports. Marc Goddard, the referee, explained that McGregor was getting too close to the cage.
His night went further south when he was caught on video yelling a homophobic slurs at Lobov.
"All I'm saying, he's a f----t," McGregor said. "I never knew he was a f----t."
McGregor apologized during an appearance on Ireland's "The Late Late Show" days later, according to the Washington Post. He explained that he didn't like the way Lobov's opponent was fighting him.
"I was whispering in his ear, and I was speaking on that, and I said what I said," McGregor said. "I meant no disrespect to nobody of the LGBT community. I didn't mean no disrespect."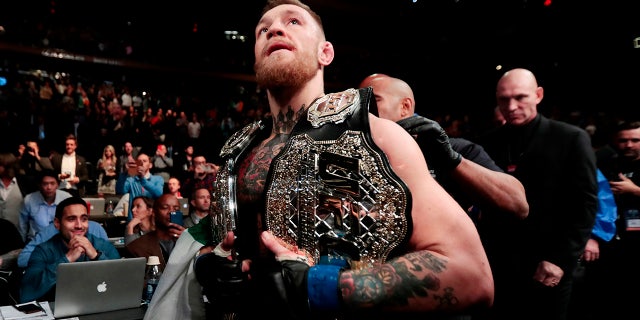 A few weeks later, McGregor made an appearance at the rival Bellator promotion in Dublin. He was supporting his teammate Charlie Ward at Bellator 187 and caused quite a commotion.
Ward won his fight and McGregor was caught on camera hopping into the cage to celebrate with Ward. Ironically, Goddard was the referee officiating the fight and pushed McGregor out of the way during the celebration. McGregor didn't take too kindly to that and got into Goddard's face.
McGregor continued to yell at Goddard and even slapped a Bellator official before leaving the octagon, according to ESPN. A U.S.-based athletic commission regulating the fight accused McGregor of assaulting Goddard and Bellator staff members.
McGregor apologized for his behavior in an Instagram message, but blasted Goddard and accused him of trying to pick up an injured fighter and force him to fight another round.
McGregor's antics would likely appear to be a fantastic way to drum up publicity for his next fight. McGregor – who was the UFC lightweight champion before being stripped of the title earlier this week – wouldn't have any problem finding his next opponent since there have been no short of challengers.
However, getting him back into the octagon has been like pulling teeth for UFC president Dana White.
McGregor went on hiatus from UFC after defeating Eddie Alvarez by technical knockout at UFC 205 in November 2016. Months later, he talked his way into a bout with Floyd Mayweather Jr., in which the then-UFC lightweight champion lost by technical knockout, but still made upward of $30 million.
White told PSB Sports in July 2017 that McGregor's next fight was going to be Nurmagomedov in Russia, Nurmagomedov's native country. However, that has clearly not come to fruition.
McGregor also would have faced Tony Ferguson to defend his belt at UFC 219 in December, but that was nixed because of the Bellator incident, according to MMA Mania.
'This is completely irrational behavior. You're a professional athlete'
McGregor then dashed hopes of possibly returning in 2018.
He wrote in a Twitter rant on New Year's Day that it would take begging and a ton of cash for him to come back to UFC and fight, according to MMA Junkie.
"Truly truly truly get on your f-----g knees and beg me," he wrote. "Otherwise I don't give a bollox. My whiskey is out this year and that's Diddy bread. And that's Diddy bread on top of already Diddy bread. Now get your Diddy's out and beg."
His Ali-esque trash talk could be conceived as McGregor building up for a UFC mega fight with Nurmagomedov. RT Sport reported in January that UFC booked September event at Olympiyskiy Stadium in Kiev, Ukraine. The fight would be close to home for Nurmagomedov and probably draw a massive crowd should it be McGregor on the other side of the octagon.
Thursday's arrest throws a wrench into UFC's plans for McGregor. White has previously told said that McGregor has four fights remaining on his contract, according to Sports Joe. But McGregor's future seems to be up in the air with his recent chaotic incident.
"This is completely irrational behavior. You're a professional athlete. You make millions of dollars a year and you're one of the biggest superstars on planet earth," White told Fox Sports' "First Things First" on Friday.
UFC didn't immediately respond to Fox News' request for comment regarding McGregor's contractual status.
Should McGregor's career in UFC end, there had previously been talk of him joining WWE – a move that former UFC superstar Ronda Rousey made months ago.
"Never say never," he said in 2017, according to MMA Fighting. "I'll love to go into that WWE and have a real knock. Let one of them have a real knock and see what's what. But we'll see. There's conversations ongoing. I've turned down some things, the conversation's still ongoing."
It's unclear what the next move for McGregor could be. But for right now, it's fair to ponder what the UFC will do given the latest incident with the Irish superstar.