In spotlight for secret family allegations, Mets' Colón has tough day at work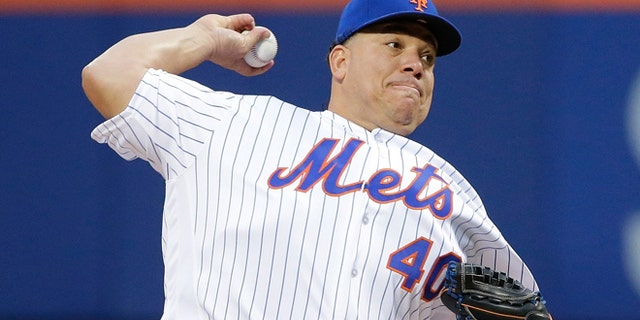 For the New York Mets' portly, beloved starting pitcher Bartolo Colón, Wednesday started out with reporters staking out his Clifton, New Jersey, home, and ended with him walking five Washington Nationals and giving up 5 hits in just 4 2/3 innings in a 7-1 loss at Citi Field in Queens.
The media frenzy followed a New York Post report that the three-time All-Star is being sued in Manhattan court for unpaid child support by Alexandra Santos, 38, who claims that Colón is the father of her 7- and 8-year-old kids.
After the game, Colon insisted the story was not a distraction.
"When I'm here doing my job, nothing else affects me," he said through a translator. "I have nothing to add to that. I don't care to talk about my personal stuff."
Whatever the cause, the Mets' opponents were grateful for Colón's uncharacteristic wildness. Limited to two runs over the previous three games, the Nationals used their eyes even more than their bats to break out at the plate.
Daniel Murphy drove in two runs against his former team to back Gio Gonzalez in his latest win at Citi Field.
Anthony Rendon snapped a fifth-inning tie with a two-run single for the Nationals, who stopped a three-game skid and held onto first place in the NL East. "It was nice as an offense for us to put up a crooked number tonight and reward Gio for how well he's been throwing the ball. I don't think we've given him a ton of run support," said Murphy, a postseason star for the Mets last year. "I thought we grinded out some at-bats tonight. We were able to get to the bullpen early and really create some traffic on the base paths."
Gonzalez (3-1) carried a two-hitter into the seventh before three singles loaded the bases with one out. Felipe Rivero relieved and escaped the jam unscathed, retiring Kevin Plawecki and pinch-hitter Michael Conforto to protect a four-run lead.
Yoenis Cespedes hit his 13th home run for the Mets, who have lost five of six.
Gonzalez improved to 10-4 with a 2.59 ERA against the Mets, and 7-1 with a 1.52 ERA in 12 starts at Citi Field.
"I really don't have an answer for what's going on here," he said.
The Mets, who threw 217 pitches, entered with the fewest walks in the majors. They had not issued 11 free passes in a nine-inning game since July 13, 2012, against Atlanta.
"I haven't seen that out of our pitching staff since I've been here. Nobody could find the strike zone," manager Terry Collins said. "That's just not us."
Pitching six days before his 43rd birthday, Colon (3-3) walked five for the first time since April 26, 2005, when he played for the Angels. He walked consecutive batters twice (Jayson Werth and Bryce Harper in the first and again in the third). Colon had not walked back-to-back hitters even once since July 18, 2007.
Collins called it "shocking" and said he was "baffled."
Before the game, the Mets manager was asked if the legal fight would affect his starting pitcher's on-field performance.
"Obviously, that's not really for me to discuss. His personal issues are his personal issues, but Bartolo Colon can handle anything," Collins said. "I think he'll be just fine."
The shaky outing took place the same day that the New York Post reported that Colon – who is married and has four children with his wife, Rosanna – is embroiled in the child support battle.
In a follow-up story on Thursday, the Post reported that the Mets pitcher refused to answer the door at his New Jersey home earlier in the day. Instead, the paper reported, a man who spoke Spanish and would not identify himself came to the entrance and told reporters that Colon "never missed" a payment.
The Post also spoke to people in the Washington Heights building where Santos lives. They said that Colon had been a frequent visitor before the lawsuit was filed a year ago.
The superintendent, Dilson Espinal, told the paper that Colon and Santos got together at a time when the baseball player was going through a tough time in his marriage with Rosanna, whom he first met as a 13 year old in the Domincan Republic.
"There came a period where his relationship was not good with his wife," Espinal said. "It was not the kind of thing where he was like, 'Let me do this girl and move on.'"
The paper reported that Santos' children have been his guest at Mets games and have gone to Colon's home.
The Associated Press contributed to this report.
Like us on Facebook
Follow us on Twitter & Instagram