Report: Mets pitcher Bartolo Colón alleged to be deadbeat dad to secret family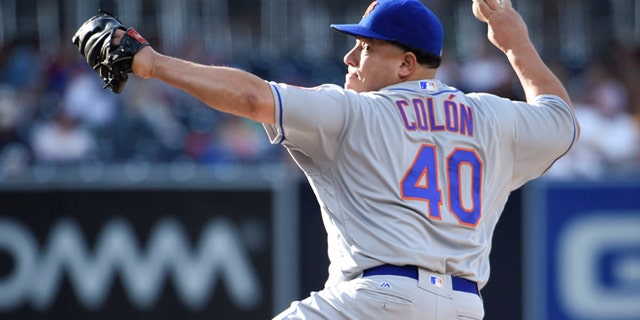 New York Mets' Bartolo Colón is being a sued by a woman who claims he fathered two of her children while he was married to someone else and hasn't bothered to pay child support.
The woman, Alexandra Santos, 38, claims the 42-year-old MLB veteran is the father of her two kids, ages 7 and 8.
Colón — who got married in 1996 and has four sons with his wife, Rosanna — was in court in New York City on Monday, The New York Post reported. The case was listed in court records as "Anonymous v. Anonymous."
Santos and Colón signed a confidentiality agreement on the case, but the pitcher's role in the dispute was discovered because he represented himself for a time, so he's listed as one of the attorneys in the case.
The newspaper says Santos filed the suit a year ago demanding that the Mets starter, who reportedly is making $7.25 million this season, pay child support.
Santos' attorney, Evan Schein, told the Post. "Colón obviously is a very talented baseball player, and he earns a significant income, and we believe that his children should share in the lifestyle they would have enjoyed had their parents remained together," he said.
Colón nor his attorney have commented on the Post story. But the newspaper did reach his wife at their home in Clifton, New Jersey. She said that she was aware of the case and Santos' claim, but she wouldn't elaborate.
"I can't talk about that," the pitcher's wife said in Spanish. "This is personal and not something I want to talk about."
Both Colón and his wife are from the Dominican Republic, and they reportedly first met when he was 13 years old. They became U.S. citizens in 2014.
So far this season, Colón has a 3-2 record with a 3.53 earned run average. Over his career, he has won 221 games, has been selected for the All-Star Game three times and won the 2005 American League Cy Young Award when he pitched for the then-Anaheim Angels.
According to the Post, Santos and Colón are scheduled to be back in court in June.