Habs won't make excuses after loss to Bruins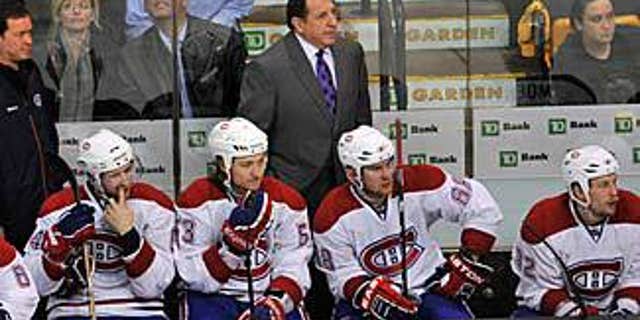 BOSTON – It would be easy for the Montreal Canadiens to lean on excuses to explain their first round defeat at the hands of the rival Boston Bruins.
But when that defeat comes in a winner-take-all Game 7 that goes down to overtime and you fall short, those very same excuses you could use to explain the loss make it that much harder to digest, because it means you were that close to overcoming those obstacles.
The Canadiens lost three of their four games in the series in overtime after Nathan Horton's second sudden death winner of the series clinched the Bruins 4-3 win in Game 7 on Wednesday.
That's three games where a bounce could have gone differently and wound up in the Bruins net, three games where a shot could have been taken a split-second quicker, three games where a momentary lapse in concentration could prove monumentally costly.
And in all three games that reached that pressure-cooker stage, it was the Bruins that came out on top.
For a despondent Michael Cammalleri, who finished the first round as the League's leading scorer in the playoffs with 10 points, that razor thin line between victory and defeat was a difficult one to get his head around after the game.
"If you go in a series and get completely dominated and lose in five, or something like that, you can probably sit back and assess it and say we need to get better, and these are the things we didn't do right," Cammalleri said. "This was one of those series that would have been very rewarding to win, and it isn't very rewarding to lose."
Carey Price, however, doesn't agree with his teammate and takes some degree of satisfaction from the fact the Canadiens competed hard enough to reach overtime three times against a team as good as the Bruins.
In fact, he believes the Canadiens are good enough to beat just about anyone else.
"I feel like if we would have played any other team than Boston, we would be advancing," Price said. "Timmy (Thomas) played great. He should win the Vezina Trophy. In my opinion, he should win it. He battled the entire series. We were just a hair short."
A hair is right.
The Canadiens can think back to Game 5 when Cammalleri got the puck in front of the Bruins net with Thomas caught way out of position, only to have his shot hit the leg of Bruins captain Zdeno Chara in the crease, who had his back turned to the puck. Not long after that, Horton corralled a rebound in front of Price and swept it home.
Or Game 4, when the Canadiens held a 3-1 lead nearly midway through the second period and a 4-3 lead with under seven minutes left in the third. A team that has built a reputation on its ability to protect leads couldn't do it, and instead of being up in the series 3-1, the Canadiens were knotted up 2-2 after Michael Ryder won it in overtime for the Bruins.
"Any loss hurts," said Canadiens captain Brian Gionta, who along with Scott Gomez was a team-worst minus-6 in the series. "But especially when you battle that hard and you know you have a team that could have won the series, that definitely hurts."
Ultimately, what has been the Canadiens biggest weakness the past two seasons straight was their downfall in this series as well. Montreal did not score a single goal at 5-on-5 over the final 160:50 of the series, a stretch that began with Jeff Halpern's game-tying goal at 13:56 of the third period of Game 5.
When the sting of this Game 7 loss wears off, that is perhaps one of those Cammalleri and his teammates can look back on as an area where they needed to be better, and if they had they might not have left themselves prone to the sometimes cruelly random nature of playoff overtime.
But for now, that perspective is overshadowed by the stark realization their season is over.
"I don't like losing," Cammalleri said. "I don't know if I can sit here and say that we're proud of losing. I don't agree with that by any means. We would have liked to win that series. It's not easy to sit here and have to answer these questions."
The Canadiens will likely have a summer full of questions to answer as they think about the tiny differences that could have turned this series in their favor.