Griffin dominates hometown Padres 11-0, Rangers hit 3 homers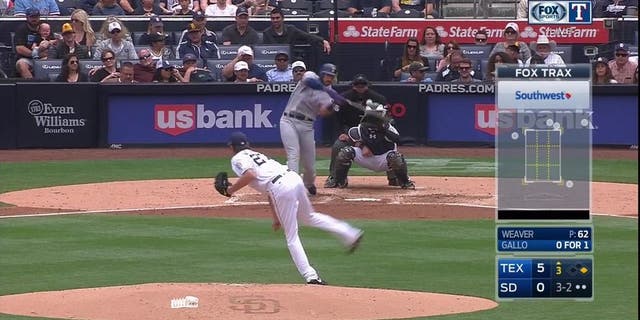 SAN DIEGO (AP) -- A.J. Griffin dominated his hometown San Diego Padres with a four-hitter for his second career shutout, and Joey Gallo and Ryan Rua homered off Jered Weaver in the Texas Rangers' 11-0 victory Tuesday.
Gallo and Rua each drove in three runs and Robinson Chirinos also homered for the Rangers, who scored two more runs than in their previous four games combined.
After splitting a two-game series, the teams head to Arlington for two more.
Griffin (4-0) was pitching against the Padres for the first time. He played at Grossmont High and the University of San Diego before Oakland selected him in the 13th round of the 2010 amateur draft. He had reconstructive elbow surgery in April 2014, didn't pitch in the majors for two seasons and signed with the Rangers as a minor league free agent on Jan. 12, 2016.
All four hits off Griffin were singled, and the Padres got only one runner as far as third base. Griffin struck out four and walked one.
Weaver, 34, fell behind 5-0 in the first inning, which was highlighted by Rua's three-run homer to right-center and Nomar Mazara's two-run double.
Gallo hit a two-run homer to right with two outs in the third, his 11th home run this season, and Chirinos had a two-run homer to left off Kevin Quackenbush in the seventh.
Weaver (0-4) lasted only three innings, allowing seven runs and six hits. Weaver has allowed 14 homers in 35 2/3 innings in seven starts.
In his last three starts, Weaver has allowed 22 hits, including seven homers, and 22 runs -- 17 of them earned. His ERA has climbed to 6.81.
UP NEXT
Rangers: The teams switch venues for a two-game series starting Wednesday night, when RHP Yu Darvish (3-2, 2.76) will try to improve to 2-0 lifetime vs. the Padres.
Padres: RHP Luis Perdomo (0-0, 4.03) has never faced the Rangers.