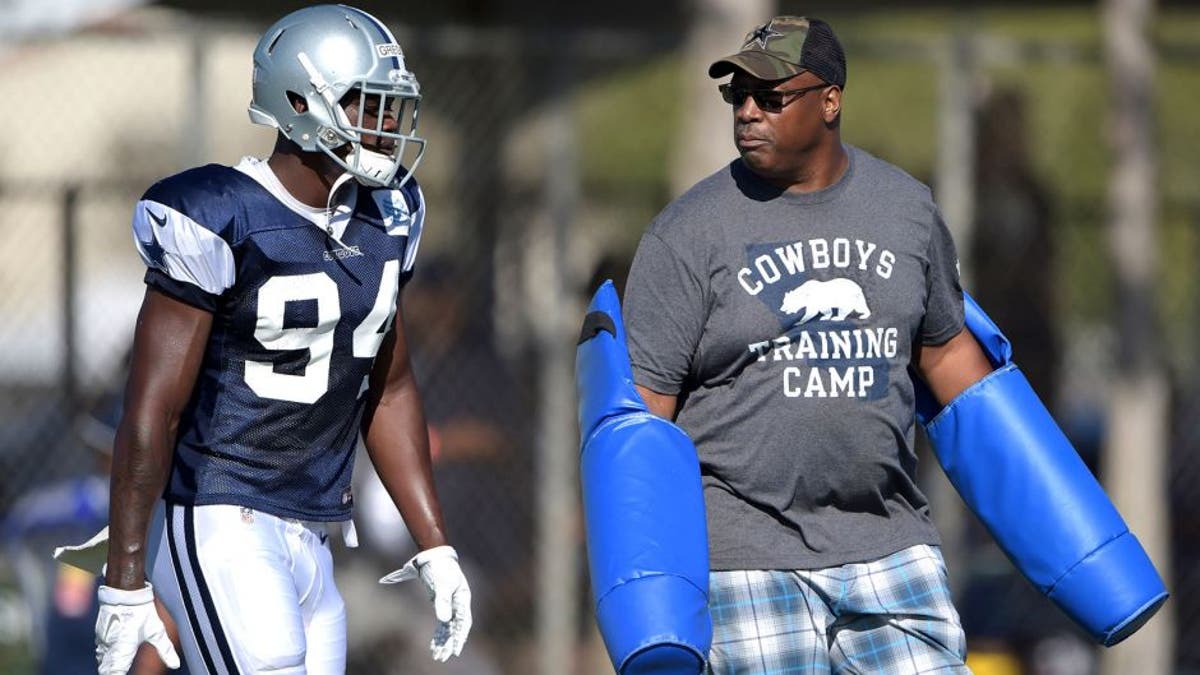 OXNARD, Calif. (AP) -- At times this summer, Randy Gregory would sign autographs and give interviews until Dallas team personnel had to just about pull him off the field during training camp.
The rookie defensive end from Nebraska has been trying to make a good impression, most notably with Cowboys owner Jerry Jones, since conduct issues caused him to slide to the end of the second round in last spring's NFL draft.
Gregory is still talking about that commitment to his outspoken new boss more than three months later, and how much it motivates him.
"It does every day," Gregory said. "Not just for them, but for myself. Even to this day we still talk about giving my best effort, staying true to my word, things like that. I live by that every day when I come out here and play and when I come out here and practice. I think I've done a pretty good job of it up to this point."
Gregory acknowledged the day he was drafted that he had to quit smoking marijuana, which led to a positive drug test before the draft. He also missed a meeting with one team and canceled two others. Once projected as a top 10 pick, Gregory slid to the Cowboys at No. 60.
But the talk about the 6-foot-5 Gregory now focuses on his two sacks through two preseason games -- one in each. And the two holding penalties he forced on San Francisco linemen last weekend. Now the Cowboys are seeing how he led the Cornhuskers in sacks for consecutive seasons, finishing with a combined 17 1/2.
"You ask yourself is this something he can do against that kind of competition, can he do it out here certainly what he is practicing against here," Jones said. "He can and he is doing it."
Executive vice president of personnel Stephen Jones says he and his dad "couldn't ask for more" than what Gregory has done on and off the field so far.
"But we're three months into this," Stephen Jones said. "We've got a long ways to go. We need that to be every day for good in terms of his habits and the way he goes about his business. Obviously he's shown that he can do it, which means that he can continue to do it."
Gregory was given No. 94, the same number worn by Dallas franchise sacks leader DeMarcus Ware, who was also well-known for being active in the community. But the Cowboys aren't putting everything on him.
Dallas has taken a pass rusher in the second round each of the past two drafts since dumping Ware in a salary cap move, starting with DeMarcus Lawrence out of Boise State last year. The Cowboys traded up to get him. They also signed former Carolina defensive end Greg Hardy in free agency, with Hardy set to miss the first four games on a suspension over his role in a domestic violence case that also kept him out of 15 games with the Panthers last season.
Lawrence missed half of last season after breaking a foot at camp in a one-on-one drill with Pro Bowl left tackle Tyron Smith -- the same sort of training Gregory got in offseason workouts and camp this year.
"I remember the first day, especially going up against Smith, I've come a long way," Gregory said. "I used to get beat all the time. Every now and then, I can sneak in a few against him. I think I put on some weight, so I think that helped out."
While Gregory says it will be a constant battle to keep his weight up -- he was listed at 255 pounds on the camp roster -- coach Jason Garrett says his "heavy hands" are an asset in pass rushing. He even got a nod from notoriously hard-to-please defensive coordinator Rod Marinelli, who called him up for an illustration about hand use during a drill in camp.
"When someone who has heavy hands strikes you, you feel it," Garrett said. "The other thing that Randy has, he's got great length and he uses it. You see him use a long arm move or how he's handling an offensive lineman or a tight end."
Or how he's handling his teammates, trying to show them that the issues affecting him before the draft are behind him.
"He was a young kid in college, smoking pot, doing what college students do," said Jeremy Mincey, the oldest of Dallas' defensive linemen at 31. "He's around a great group of men. He's holding everything together. He's working hard, and he's all in."
And Gregory's been trying to show it since the day he arrived.