Gov't, NBA team launch All-Star security campaign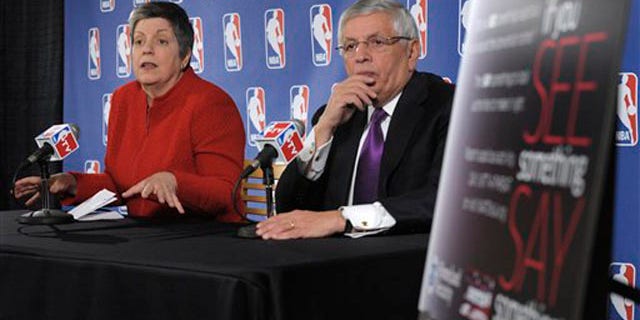 NEWYou can now listen to Fox News articles!
WASHINGTON – The Homeland Security Department and the NBA said Tuesday they will launch a security campaign at this weekend's All-Star game activities in Los Angeles, encouraging people to report suspicious activity.
"We hope that this partnership will emphasize basically that security is a shared responsibility," said NBA commissioner David Stern, appearing at a news conference with Homeland Security Secretary Janet Napolitano at the Verizon Center.
TV monitors and print materials at the All-Star game will urge people, "If you see something, say something" — a core post-Sept. 11 message.
"We think that sports is a terrific way to send messages, and to get people who go to events to focus on this very important message," Stern said.
Napolitano said the idea behind the message is simple: "It's asking the American people to be vigilant, and to aid local law enforcement."
DHS partnered with the NFL on the campaign at last week's Super Bowl in Dallas. Napolitano also visited the host city to tour the Super Bowl stadium and review the NFL's security plans.