Gio Gonzalez First to Score 21st Win as Cy Young Race Continues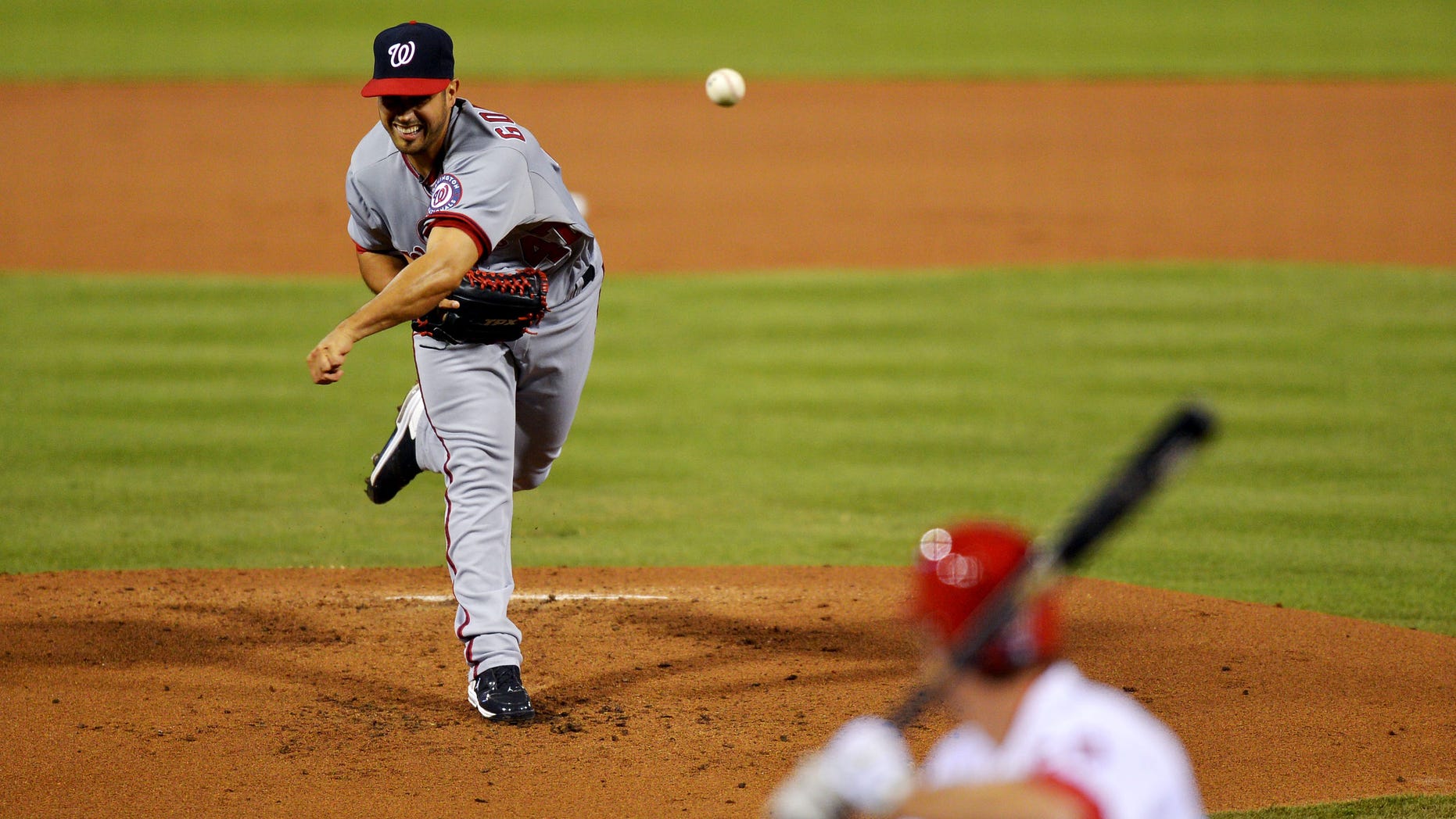 Philadelphia – Washington Nationals pitcher Gio Gonzalez became the first 21-game winner in the majors this year on Friday night, and the first pitcher to reach as many wins in the nation's capital since Bob Porterfield had 22 for the Washington Senators in 1953.
Gonzalez (21-8) settled down after a shaky start and lasted six innings, allowing three runs and six hits. He's the first NL lefty to win more than 20 games since Dontrelle Willis won 22 for the Florida Marlins in 2005.
Gonzalez and Mets knuckleballer R.A. Dickey (20-6) are considered the leading candidates for the NL Cy Young Award.
Michael Morse hit two homers and the Nationals beat the Phillies 7-3 Thursday night to move closer to an NL East title.
Bryce Harper also connected for the playoff-bound Nationals, who reduced their magic number to three. They have a four-game lead over Atlanta with six to play.
"We have to keep fighting," Gonzalez said. "It won't be easy. We just want to do what we've been doing all year."
The Phillies closed out their home schedule with a loss that left them on the brink of postseason elimination. They trail St. Louis by six games for the second wild-card spot with six games remaining.
They finished 40-41 at home, their first losing record at 9-year-old Citizens Bank Park.
"We competed. We never gave up when people never thought we'd even be mentioned for a playoff spot," slugger Ryan Howard said.
The Nationals already are the first major league team in D.C. to reach the postseason in 79 years. They're looking for their first division crown since moving to Washington and the second in franchise history. The Montreal Expos won the NL East in 1981, a strike-shortened season.
"We've got three more we've got to win," manager Davey Johnson said.
Tyler Cloyd (2-2) got roughed up by an offense that feasted on his straight fastballs. Cloyd, who was 15-1 in the minors this season, allowed six runs and six hits in five-plus innings.
Cloyd walked Danny Espinosa to start the fifth and Jayson Werth with two outs. Harper then hit a soft liner to left for a single, scoring Espinosa for a 4-3 lead.
Morse crushed a two-run shot to right-center to give the Nationals a 6-3 lead in the sixth. The ball sailed over Philadelphia's bullpen and landed in front of Washington's relievers, traveling an estimated 448 feet.
"It felt real good coming off the bat," Morse said. "It's been a tough year for me, but the team's played great and everybody has been picking up for everybody."
Harper ripped one out to right-center to give the Nationals a 1-0 lead in the first. He also homered in his first at-bat Wednesday to become the second teenager to hit 20 homers, joining Tony Conigliaro.
Darin Ruf lined a three-run double over Harper's head to put the Phillies up 3-1 in the first.
"I was a little bit out of whack," Gonzalez said about walking two batters in front of Ruf. "I was like a split personality out there, talking to myself trying to figure it out. I really wanted to make a quality start."
Ruf earned the nickname "Babe" by leading all minor leaguers with 38 homers this season, breaking Howard's single-season record at Double-A Reading. He hit his first homer Tuesday in his third at-bat and first start.
Morse connected in the second to cut it to 3-2.
The Phillies acquired Gonzalez from the Chicago White Sox along with Aaron Rowand and another minor leaguer in 2005. They traded him back to the White Sox with Gavin Floyd forFreddy Garcia in 2006 in what turned out to be the worst trade by Hall of Famer Pat Gillick in his three years as Phillies general manager.
Gonzalez has won at least 15 games three straight years and is a two-time All-Star. Floyd has won double-digit games five consecutive seasons. Garcia won one game for Philadelphia.
Reporting by the Associated Press.
Follow us on twitter.com/foxnewslatino
Like us at facebook.com/foxnewslatino