Washington Nationals Clinch First Playoff Berth Since 1933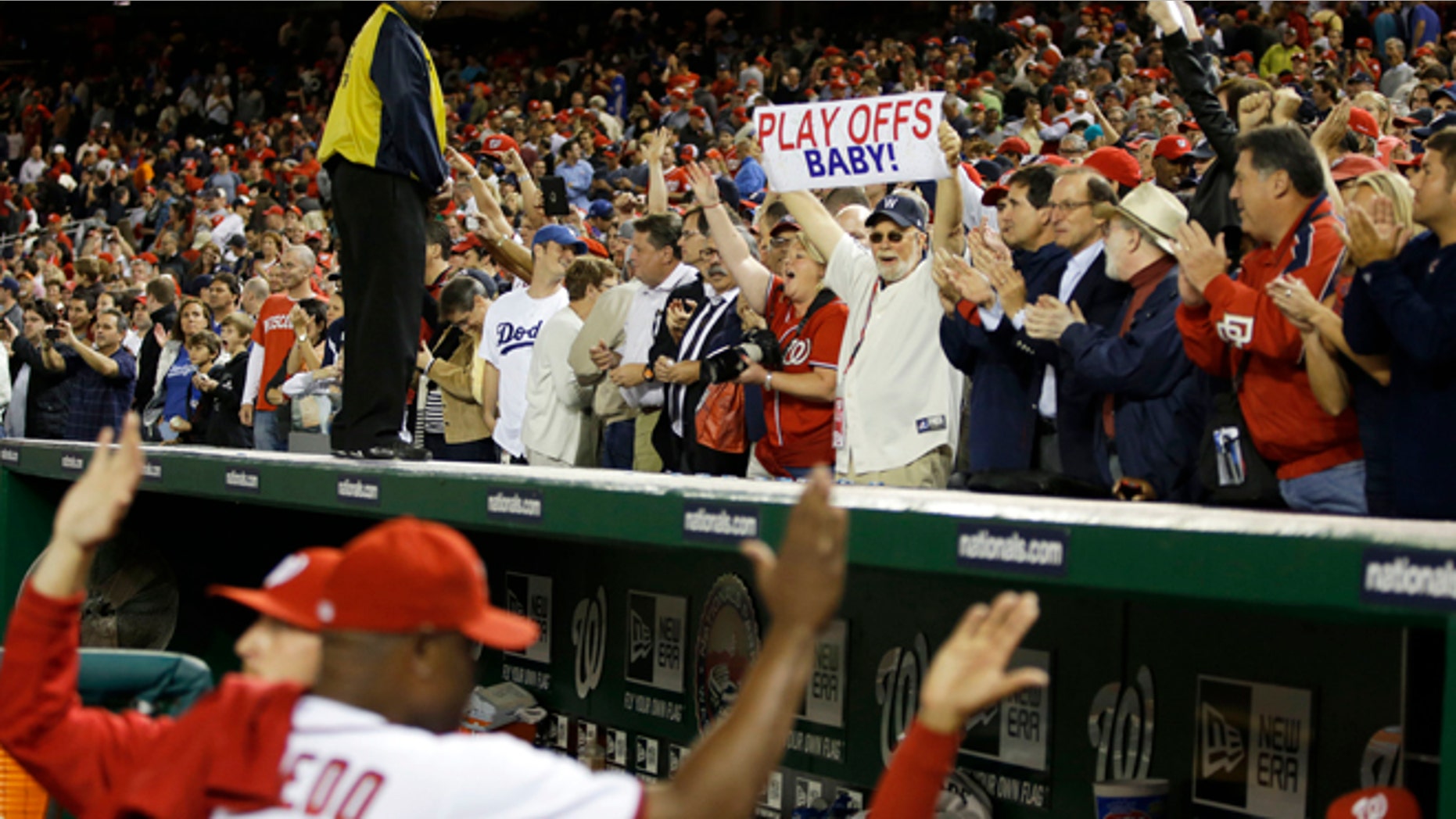 WASHINGTON – Postseason baseball is returning to the nation's capital for the first time since 1933 after the Washington Nationals beat the Los Angeles Dodgers on Thursday night.
Bryce Harper was unaware of the significance of the Washington Nationals' latest victory until the fireworks started going off and he was handed a playoff T-shirt and hat.
"I said, 'Well, I guess we're going to the playoffs,'" the 19-year-old center fielder said.
The Nationals used Ross Detwiler's six strong innings and Ryan Zimmerman's RBI double to lock up a playoff spot with a 4-1 win over the Los Angeles Dodgers.
Fun Fact
Washington was last in the postseason 79 years ago, when player-manager Joe Cronin and the Senators lost to the New York Giants in five games in the World Series.
"Nats Clinch" flashed on the scoreboard as Washington was ensured of at least an NL wild card, delighting the crowd of 30,359.
"That was fun, but it's not what I had my eye on," manager Davey Johnson said. "I don't want this."
The fans stood and cheered in the ninth inning, then got even louder when Drew Storen struck out Hanley Ramirez to end it. Johnson saluted the crowd as he left the field and the team wore caps and T-shirts acknowledging the playoff berth.
"I noticed like in the fifth or sixth, some signs, some different things that kind of keyed me into that this wasn't going to be an ordinary evening," Jayson Werth said.
"That was not an ordinary win."
Washington's magic number to win the NL East was reduced to eight. The Nationals lead idle Atlanta by 5½ games.
"We've been through a lot and a lot of us in here have been through a lot of not-good times and these are the beginning of hope for a lot of good times," Zimmerman said.
Zimmerman is the only Nationals player to appear in each of the team's eight seasons.
"It's a first step, and it's a long ways to go," he said.
Washington became the second team in the majors to clinch a playoff spot this year. Cincinnati earned its slot earlier in the day.
The Nationals celebrated with a private champagne toast. No spraying and no protective plastic over their lockers.
"I think there was some talk about not celebrating at all, but I kind of talked them out of that," Werth said.
"The next one would not be as subdued, I would imagine," Zimmerman said.
Washington last reached the postseason 79 years ago, when player-manager Joe Cronin and the Senators lost to the New York Giants in five games in the World Series.
"I can't remember that year," Johnson said with a laugh.
Until this year, the Nationals had never had a winning season — nor finished above third place — since moving from Montreal for the 2005 season. It will be just the franchise's second postseason berth and its first since the Expos came within a game of the World Series in 1981.
The Nationals lost more than 100 games in both 2008 and 2009, allowing them to draft pitcher Stephen Strasburg and Harper.
The loss dropped the Dodgers three games behind St. Louis for the NL's second wild-card spot. Milwaukee moved ahead of Los Angeles with its win over Pittsburgh.
Manager Don Mattingly agreed the team's playoff chances dimmed after the Dodgers' 10th loss in 14 games.
"You know, honestly, it does. It feels like it is a little bit, and I don't think there's any way for us to look at it other than that," he said. "I mean, it's, yeah, we're going the wrong direction.
"For us at this point, we're going to have to put a run together that's going to be more than just win a series."
Detwiler (10-6) allowed Mark Ellis' fourth-inning home run and two singles. Storen pitched the ninth for his third save.
Zimmerman's third-inning double scored Harper with Washington's first run. Zimmerman then took third on an infield out and scored on a wild pitch by Chris Capuano (11-11).
The Nationals added two runs in the fourth on a walk to Ian Desmond, an RBI double by Danny Espinosa and a sacrifice fly by Kurt Suzuki.
Werth, who signed a $126 million, seven-year deal with the Nationals before the 2011 season, is most eager for the postseason to begin.
"I've got a lot to prove. I've got a lot of people to prove wrong, and I can't wait," Werth said.
NOTES: Mattingly said that LHP Clayton Kershaw was continuing with his throwing program. Kershaw will have to demonstrate he's free from pain in his right hip before he'll be able to pitch again, the manager said. ... Johnson said RHP Chien-Ming Wang will start on Sunday. Wang hasn't started since June 19. He missed nearly two months with a right hip injury.
— POTENT BREW: Milwaukee rallied for a 9-7 victory over Pittsburgh, continuing its push for a playoff spot. The Brewers have won five straight, eight of nine and 15 of 19 to climb into the postseason race. They remained 2½ games back of St. Louis for the second NL wild-card slot.
— DIVISION RACES: Cincinnati's magic number in the NL Central is two games, and San Francisco trimmed its magic number to clinch the NL West to three. The rest of the leaders are facing a longer road to division titles.
— NEXT UP: Left-hander CC Sabathia (13-6, 3.63 ERA) gets the ball when the New York Yankees host the Oakland Athletics in the opener of a weekend series. Chris Carpenter also makes his 2012 debut when the St. Louis Cardinals face the Chicago Cubs at Wrigley Field on Friday afternoon.
— CHASE CHATTER: "That last inning we dug deep and ... it says a lot. We can definitely cash it in, but we're not, and we're going to finish this thing out strong. You never know what's going to happen," said B.J. Upton, who hit a game-ending homer in Tampa Bay's dramatic 7-4 victory over Boston.
Follow us on twitter.com/foxnewslatino
Like us at facebook.com/foxnewslatino