Georges St-Pierre throws his support behind former opponent Nick Diaz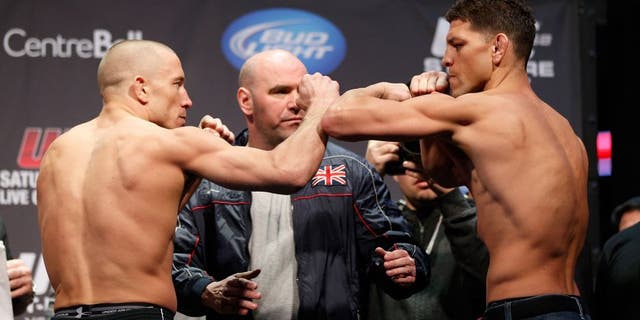 NEWYou can now listen to Fox News articles!
Despite a fierce rivalry in the Octagon, former UFC welterweight champion Georges St-Pierre is throwing his support behind Nick Diaz after his former opponent was recently suspended for five years by the Nevada State Athletic Commission.
Diaz was handed down the penalty after allegedly testing positive for marijuana following his fight against Anderson Silva in January, which was his third such infraction in the state of Nevada.
St-Pierre has spoken out in favor of more stringent drug testing in mixed martial arts, but believes Diaz was abused with the commission essentially handing him a death sentence for his career if he sits out for five years.
"Personally, five years, I think it is too much," St-Pierre said when speaking to RDS in Canada. "Especially if you compare his case to Anderson Silva or other guys who were cheating and received a smaller suspension.
"I think they wanted to use him as an example because this is a colorful character who talks a lot and made a lot of noise."
St-Pierre said that Diaz's case is similar to Olympian Marion Jones, who was stripped of her Olympic medals and then banned from the 2008 games after she admitted to using performance-enhancing drugs.
Diaz and his attorneys are planning an appeal to the suspension but for now the embattled UFC welterweight remains on the sidelines hoping that he can find reprieve in the Nevada court system.
"I think everyone is entitled to a second chance," St-Pierre said about Diaz.
St-Pierre also believes that marijuana isn't nearly on the same level when compared to other illegal drugs such as steroids or human growth hormone, which are also banned substances, but Diaz's penalty was far worse.
"This is a drug, yes, but I think there should be different penalties for certain products that competitors use, because then it does not really make sense," St-Pierre said. "Marijuana can help a person suffering from anxiety, but it can't make you physically stronger or more powerful, more efficient. I do not think it should be judged as severe."
While there doesn't appear to be much St-Pierre can do to help Diaz in his current situation, the former champion is happy to pledge his support while also stating that their beef inside the Octagon was already settled and he'd like to help the former title challenger in whatever way possible.
"We need guys like him in the sport and I hope he will return soon," St-Pierre said. "If I can help in one way or another, without getting in trouble, it'll make me happy to do so. This is someone that I like and I wish him the best of luck."