Gennett strong against Pirates, surging against lefties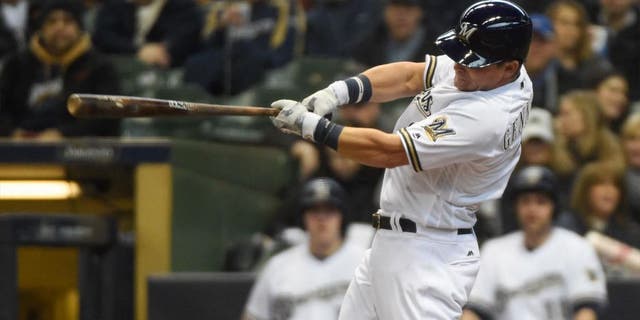 NEWYou can now listen to Fox News articles!
Scooter Gennett is having a nice year at the plate and the Milwaukee Brewers second baseman is even getting more playing time against left-handed pitchers, whom he has struggled with in the past but not so much in 2016.
There's a double dose of good news for Gennett -- the Brewers are playing Pittsburgh and the Pirates are likely to start two lefties.
Gennett, who owns a .326 career on-base percentage, reaches base against the Pirates like no other club.
SCOOTER GENNETT CAREER OBP VS. OPPONENTS (Min. 25 PA)
| | |
| --- | --- |
| Team | OBP |
| Pirates | .390 |
| Phillies | .376 |
| Giants | .360 |
| Diamondbacks | .359 |
| Dodgers | .350 |
By the way, Gennett really likes facing American League West teams. Four of his top-five OBP regardless of plate appearance are against teams from that division: Angels (.500), Rangers (.500), Mariners (.455) and Athletics (.381). He's even at a respectable .353 vs. Houston.
Speaking of respectable, let's talk Gennett against southpaws. Coming into the season, Gennett struggled mightily when facing lefties, batting a paltry .123.
However, this year, he's turned things around and nearly has as many hits in 2016 off left-handers (13) than he did combined in his first three seasons (14). Overall in this season, Gennett is 13 for 47 vs. lefties, a .277 batting average. He also has a .370 on-base percentage and .468 slugging percentage, thanks to three doubles and two home runs.
The Brewers as a team have done very well when facing left-handers. In 28 games started by lefties, Milwaukee is 16-12, a .571 winning percentage. Pittsburgh's probable pitchers for the final two games of this Tuesday-Thursday series are left-handers Jeff Locke and Francisco Liriano.
Other notes:
-- Pittsburgh (.381) and Milwaukee (.360) rank first and fourth in the National League in batting average on a 0-0 count.
-- The Brewers' Jonathan Villar (33) and the Pirates' Sterlin Marte (32) rank 1-2 in the major leagues in stolen bases.
-- Milwaukee is 10-3 (.769) this season when Junior Guerra starts. The only better team winning percentages when a pitcher starts in the National League are the Nationals/Stephen Strasburg (16-1, .941), Dodgers/Clayton Kershaw (14-2/.875) and Giants/Johnny Cueto (16-3/.842).
Statistics courtesy STATS LLC